Officer meets untimely end, East Harlem copes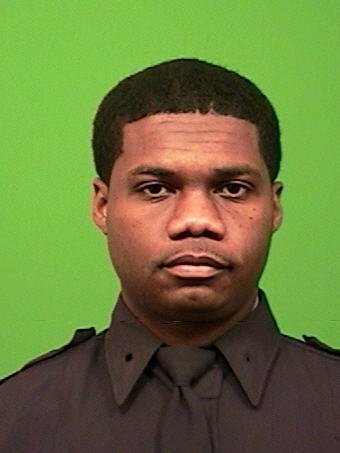 Amsterdam News Staff
Police named 31-year-old Tyrone Howard as a suspect in the shooting death of officer Randolph Holder, 33, in East Harlem.
Holder, along with other officers, from the Housing Bureau Anti-Crime Unit, responded to a shootout at 420 E. 102nd St. along FDR Drive. After suspects, including Howard, fled the scene, officers said that Howard robbed someone of a bicycle at gunpoint and went north along FDR Drive. After encountering Howard, Holder and another officer exchanged gunfire, and Holder was struck in the head.
Holder was pronounced dead at Harlem Hospital. Holder leaves behind a 16-year-old daughter in his native Guyana. He was a third-generation cop.
Howard, who went by the name "Peanut" on the streets, has a criminal history that includes 18 prior arrests and three prior warrants. NYPD officials said that Howard was wanted for an earlier shooting in East Harlem. Three other individuals were taken into custody by police and were being questioned about their possible involvement in the events that led up to Holder's death.
Police officials also claim that they have eyewitness testimony that will tie Howard to the shooting, along with video and physical evidence.
Elected officials were quick to offer their condolences to the family of Holder, some of whom live in Far Rockaway, Queens.
"As a veteran of the New York City Police Department, I feel the pain of this horrific loss on a personal level, as do all those that make up the fraternity of New York's Finest," said Brooklyn Borough President Eric Adams in a statement. "Officer Holder served his city proud, a pride felt deeply by his brothers and sisters from Housing PSA 5 as well as by his family, which carries a legacy in law enforcement going back several generations in Guyana."
"What a devastating night," read a joint statement by New York City Council Members Vanessa Gibson and Jumaane Williams. "We are heartbroken by the loss of NYPD officer Holder and the unfathomable frequency with which we find our city mourning the loss of young and promising officers. This level of violence against the men and women who put their lives on the line to protect us everyday is simply unacceptable."
New York City Mayor Bill de Blasio referred to Tuesday's events as a "devastating night" in the immediate aftermath of the shooting. The next day, during a news conference at One Police Plaza, de Blasio stated that a criminal of Howard's caliber should not have been free.
"The perpetrator is a hardened, violent criminal and should not have been on the streets," de Blasio said. The mayor also pointed out that Holder's death is a result of the "unrelenting flow of guns into the city" and chastised those in the country who were pro law and order but are against gun control.
In honor of Holder, both de Blasio and New York Gov. Andrew Cuomo have ordered flags to fly at half staff at all city and state buildings.
Outside of the extra police officers present and the abundance of television news vans and cameras, life in the East Harlem neighborhood went as it always has, but that doesn't mean the events of late Tuesday night into early Wednesday morning didn't weigh on the minds of residents. The AmNews spoke to several residents in the area who wished to remain anonymous and who were saddened by the officer's death but wanted to look at the bigger picture.