Baraka celebration, Motley at Whitney
10/23/2015, 5:33 p.m.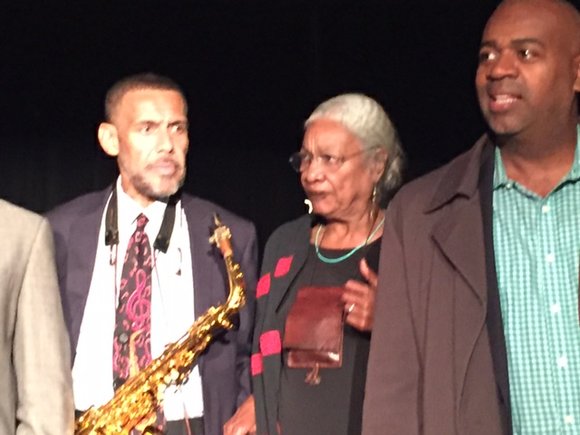 Recently, family, friends and followers came out to Newark Symphony Hall to celebrate Amiri Baraka.

In the midst of the ongoing storm, when spit, innuendoes and stones were flying in his direction, Baraka stood his ground, firing back with fiery words that made the nonbelievers retreat for another day.
The celebration represented his literary contribution to society and his birthday that was three days earlier (Oct. 7; he would have been 81). The joyous occasion reflected a 1960s event filled with revolutionary thought and jazz that roared.
Such a program during those years would have included guests such as the Last Poets dropping bombs of thought, Leon Thomas' hypnotizing vocals or Carmen McRae singing songs of love while the Black Panthers held court in front of the church or community center.
The guest poets presented an inspirational flow that represented those conversations they had shared with the master poet. Quincy Troupe noted he held Baraka in the same regard as Malcolm X, Stokely Carmichael, Ntozake Shange, Miles Davis and Mohammed Ali. Jessica Care Moore's words were rhyming with defiant truth.
While Shange had to be helped on stage, she walked with the grace of a Black queen. Her speech was somewhat slurred, but her voice rang out with explicit enunciation, penetrating like arrows to the brain, smashing windows of lies with words of inspired realities.
The honorable Mayor Ras J. Baraka's speech pattern had a similar warrior's flow to that of his father. While speaking of Black arts and culture and how it related to the community, one could see how he was inspired by his father and mother, Amina.
Sometime ago, at Brooklyn's ShapeShifter Lab performance venue, Amiri and Amina were slinging words with a rhythmic flow that was so tight one could tell they were down with the fight and each other, revolutionary words sparking love and truth.
The all-star band played the music of Thelonious Monk, one of Baraka's favorite musicians. He once noted during an interview that he played Monk every night for one year just to get a better understanding. He often wrote and performed with Monk's music as background, whose birthday was just three days later.
Members of the ensemble (some played in Baraka's Blue Ark Word Music Ensemble) were bassist Reggie Workman, trombonist Craig S. Harris, poet/saxophonists Oliver Lake and Rene McLean, pianist Adegoke Colson, vocalist Iqua Colson and drummer Pheeroan Aklaff.
The playwright, screenwriter and host Richard Wesley happily noted the Baraka celebration may very well take place again next year. It's good to see there is a family dynasty in Newark, the Barakas, that counters the absurdity of the Bush clan and those on that same train.
All artists, despite the discipline, are intoxicated by their surroundings and travel. The artist Archibald Motley Jr. was greatly inspired by the night life in Jazz Age Chicago during the 1920s and 1930s.
Although Motley did not gain the fame of such modernists as Edward Hopper and Thomas Hart Benton, he developed a style extending his recognition around the world. Although he was raised and resided in Chicago, he was one of the significant artists during the Harlem Renaissance.