David N. Dinkins Municipal Building, a tribute to the city's first Black mayor
Herb Boyd | 10/23/2015, 5:53 p.m.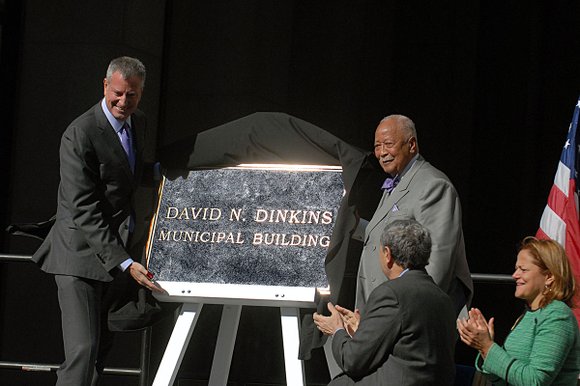 The classic, beaux arts Manhattan Municipal Building, once planned to be sold and converted into a condominium, was given a fresh do-over without losing any of its luster when it was renamed the David N. Dinkins Municipal Building last Thursday. Mayor Bill de Blasio, with Dinkins standing nearby, christened the more than century-old towering structure at One Centre Street in the name of the man he used to work for.
"History still doesn't accurately identify what this mayor did for the city," the mayor said, choosing that moment to extol the city's first African-American mayor. He said Dinkins deserved credit for lowering the crime rate by hiring 9,000 additional police officers.
On this point, former Gov. David Paterson elaborated, noting that the mayor was never praised for lowering the city's crime rate. "And I am glad this was a moment to set the record straight," he said in a telephone interview Friday. He said it was ironic that the building was named in Dinkins' honor "because he worked in that building 14 years [as city clerk and as Manhattan borough president] and he was 14 years old when it was completed."
Dinkins, 88, who was elected the 106th mayor in 1989, shared the honor with a number of former staff members, including the family of the late Bill Lynch, his political guru and campaign manager. "It was not I, but a great bunch of people, women and men who got the job done for which I got the credit," he said at the event. "I will forever be grateful."
He told reporters, "I feel a kinship. I like Bill a lot, but I don't try to give him political advice because I've been there. I know it is a difficult job, but it's the greatest job there is."
And the city should be forever grateful for Dinkins' service, which, along with his commitment to public safety as well as balancing the budget, Paterson noted. "Very little is said or written that when David arrived in office it was just after the recession in 1991," he said. "But when he left office, there was a $455 million surplus. This is another thing that got cleared up the other day."
The building is the second landmark location named for the former mayor. In Flushing Meadows there's the David N. Dinkins Circle, the entrance to the tennis center he cherishes.
Cherished, too, is his longtime friend and comrade-in-arms Rep. Charles Rangel, who witnessed the ceremony. "I cannot be more proud that the former Manhattan Municipal Building will bear the name of one of New York's greatest public servants, my longtime best friend and former Mayor David Dinkins, whose legacy will forever be cemented as a great American and one of New York City's finest," Rangel said of Dinkins, his colleague as one of the legendary "Gang of Four" of Harlem, which also included the late Percy Sutton and Basil Paterson.
"A true man of service," Rangel added, "as a Marine in World War II, to his tenure in the New York state Assembly and in City Hall, this remarkable man's devotion to serving the people and nation will withstand years of inspiration for all who pass through the building."