Jaamil Olawale Kosoko's anonymous bodies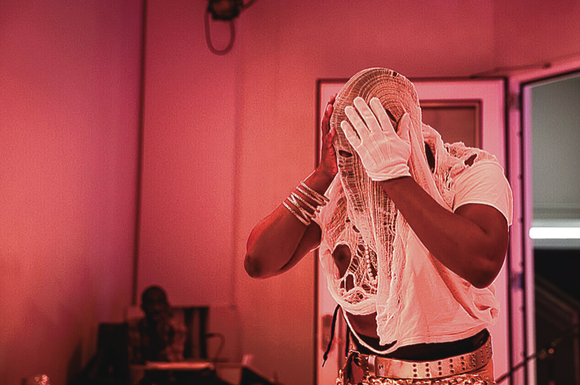 A lot happened in Jaamil Olawale Kosoko and anonymous bodies' "#negrophobia" at Gibney Dance: Agnes Varis Performing Arts Center. In a really small space, the two performers, Olawale Kosoko and IMMA MESS, manage to create a giant experience. The main "performance area" holds a few chairs, so most everyone sat on the floor in varying configurations and was directed to look into the hallway, through the windows to the street and into a bathroom-dressing area nearby. To get from here to there, the performers often moved through the audience, who willingly parted the space, and this or that prop was moved, plugged in or shifted to make new space without pause. This activity was the rhythm of the evening.
From the top of the show, tattooed, in dangerously high white platforms, a white dance belt and a stocking-cap mask with eyes, nose and mouth imprinted, MESS strutted into the space brandishing a cellphone and streamed the audience, himself and Olawale Kosoko from the bathroom-dressing room area. His runway walk along the white flooring, framed with scatterings of pictures (Martin Luther King, James Baldwin and more), writings, props and stacks of books, further heated up the anticipation. On one wall, through the live stream, Olawale Kosoko can be seen on a toilet seat, blinged out in a gold jacket, studded gold pants, chains, sneakers, incense sticks coming out of a gold headband and aviator goggles that he later unscrewed so we could see his eyes. This scene was just the beginning. More happened—plenty more.
Through a long and continually shifting journey, Olawale Kosoko manages to voice his thinking on complicated issues of race, family, "experimenting with pre-adolescent desire," and myriad emotional highs and lows, moving through dance, text and song. Toward the end, as if offering some resolve for the deluge of information and amidst his piling and unpiling of books on race, he repeats, "I'm reading, I'm reading, I'm reading," and recommends "mandatory" books by bell hooks and Brenda Dixon Gottschild.