Brooklyn Best Honors reps for Domestic Violence Awarness Month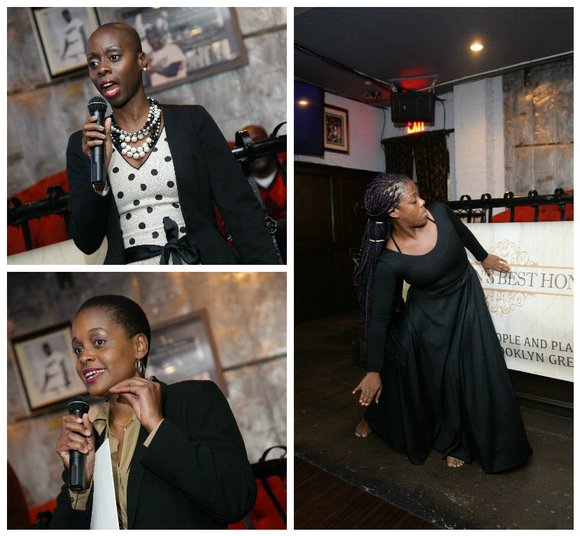 Brooklyn's Best Honors celebrated its first year raising awareness and funding for a worth cause with a turn-up at Bedford Hall. Hosted by New York City Councilman Robert E. Cornegy Jr., the lively affair included music from singer-producer Darryl Copeland and a praise-dance performance by Queyanni Coleman.

"It's an honor to be here celebrating individuals who continue to do outstanding work in our community," stated Cornegy, who, along with the Brooklyn Borough President's Office, presented special citations to civic leader Tremaine Wright; educator T.S. Hoard; and dancer-choreographer Dwana Smallwood.
Wright, former owner of the Common Grounds coffee house, received the BBH Humanitarian Award. As the chairperson of Community Board 3, Wright has spent the last 10 years improving the quality of life in her neighborhood. She is an active member of Brooklyn's alumnae chapter of Delta Sigma Theta Sorority; has served as a volunteer lawyer for the Volunteers of Legal Services' Incarcerated Mother's Project; and is the founding member of the Brooklyn Alliance for Safer Streets.

"This is a great event, and Brooklyn is a beautiful place to live, and I am ready for to the next chapter of my life," stated Wright, who recently announced her candidacy for the New York Assembly.
Hoard is the principal of Excellence Boys Charter School of Bedford-Stuyvesant Middle Academy. It is one of New York City's highest performing charter schools in the Uncommon School's network. A humble servant leader, Hoard thanked his beautiful expecting wife and many others, including the Young Life youth ministry, whom Hoard credits for teaching him that his "greatest mission is to introduce adolescents to Christ by reflecting [Christ]."
Under Hoard's leadership, Excellence Boys Charter School is driven to cultivate in its young men the knowledge, skills and character necessary to succeed academically, embrace responsibility and become honorable citizens and courageous leaders.
Smallwood, the BBH Cultural Arts recipient, once referenced dance as her oxygen. As the principal dancer for Alvin Ailey, Smallwood's talent afforded her the opportunity to travel the world and breath life into Oprah Winfrey's Leadership Academy for Girls in South Africa, where she was the creative architect for its dance school. However, it was her passion for serving others that brought her back home. \
"Giving back is what I'm suppose to do," stated Smallwood, who, in 2014, opened the Dwana Smallwood Performing Arts Center in Bedford-Stuyvesant. "I'm truly grateful for those who are shedding light on what I intend to do," Smallwood shared. "I ask that you get ready for what I'm about to do."
In honor of Domestic Violence Awareness Month, all proceeds from Brooklyn Best Honors will go to Safe Horizon's Jane Barker Brooklyn Child Advocacy Center. The agency provides an essential community response to New York City's most vulnerable victims of violence and abuse by giving child victims the foundation they need to move from crisis to confidence. Brooklyn's Best Honors is an Urban ID Media production, a Brooklyn-based media and event marketing agency. The quarterly receptions capture the wealth and diversity that profoundly exists in the county of Kings. Each affair is held at an exclusive Brooklyn-based venue where honorees and tastemakers converge for an authentic Brooklyn experience.