Cirque du Soleil brings the magic and music of Michael Jackson to life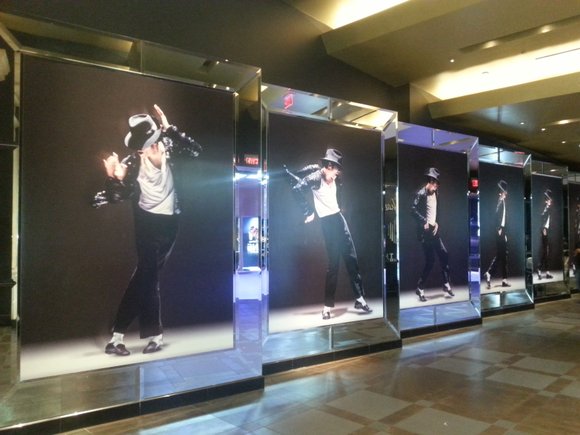 Ever since I was a little girl, one of my biggest bragging rights was that I had the same birthday as Michael Jackson (he was five years older). As such, I always felt a certain kinship with the man who eventually became "the King of Pop," enjoying his continued success for decades to come along with the rest of the world.
So, of course, I was overjoyed during my recent trip to Vegas to not only see Cirque Du Soleil's "Michael Jackson ONE," taking residency exclusively at Mandalay Bay Resort and Casino, but to also get a special backstage tour to talk to some of the performers and see first-hand how they brought Jackson's magic and music to life.
THERE IS ONLY "ONE" KING OF POP
Like all Cirque Du Soleil shows (this, the newest of the eight currently running in Vegas), "Michael Jackson ONE," the first large-scale production developed for the theater about Jackson's world and music and developed in a 50/50 partnership with Jackson's estate, is an elaborate, multifaceted tableaux of scenes, characters and themes that delightfully thrust the audience through a dramatic, all-encompassing, sensory journey chronicling Jackson's creative genius, transformative music, masterful lyrics, heart-stopping dancing and eternal legacy.
The production is guided by Jackson himself as the narrator, a conscious effort I was told, because only Michael Jackson can portray Michael Jackson. The only exception to this was one live guitar performance and appearances by vocalist Valerie Kimani, who portrayed Ngame, the Mother Moon Goddess.
"It's intimidating because Michael Jackson was larger than life and I could be scared of it or let it inspire me," said Kimani. "I got to ad lib a little and create something that touches people, so it's different every night and a very internal process."
IT DOESN'T MATTER IF YOU'RE BLACK OR WHITE
Jackson truly believed and demonstrated through his life and work that all people are unique and equal, regardless of race or culture. This multicultural inclusion is evident throughout the production's energetic cast of 72 performers and over 100 crew members hailing from 18 different countries.
In fact, many of them worked with the late entertainer over the years, including writer and director Jamie King, who began his career as a dancer on Jackson's "Dangerous World Tour" and also directed the arena touring show "Michael Jackson: The Immortal World Tour" by Cirque du Soleil.
It's the palpable, fundamental principal underscoring every element of the show, from using the same company that made Jackson's fedora hats for the fedoras in the show, to paying tribute to his love of Swarovski crystals by incorporating over 7,000 of them on the costume worn for "Dirty Diana."
To fully immerse the audience in the sound environment of the show, the artistic team created a unique audio setting, with multiple speakers integrated into each of the 1,804 seats, providing a unique, surround sound feel, almost as if one were standing in the middle of the stage.
The visual elements are stunning as well, including 26 video projectors, a 40-foot wide, 30-foot high LED wall and, overhead, two 96-foot tracks to literally zoom the artists over the audience during certain numbers.