Chancellor Farina's positive outlook for the city's 1.1 million school children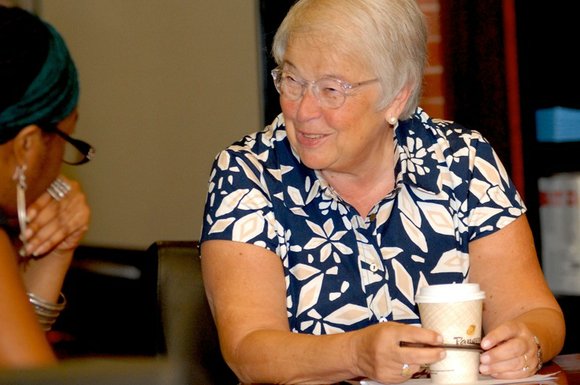 Working with what she has been given by the de Blasio and Cuomo administrations, Schools Chancellor Carmen Farina—having spent 50 years in the service of New York's public school system—espouses a claim on each and every school child in the city.
"I believe all the children are mine, including the ones in yeshivas and parochial schools. Any child who goes to any school in New York City belongs to us one way or the other."
And while the debate of public school versus hedge fund-financed charter schools continues amidst the rancor of the Common Core battle, Farina touts universal pre-K expansion, summer STEM program success and increased parental involvement as her badges of honor.
Her affable grandmotherly touch works well with her "from the ground up" working mom, teacher-to-superintendent-to-chancellor storyline. She supports the city's mantra about public school education, and while she says she hears the concerns over the fears about Common Core and high stakes standardized testing, she states that she supports both.
"It's very exciting. September will be my 50th year [in education]. It's a nice way to see my life come full circle. I think we are moving in the right direction. I am very satisfied with what we have accomplished, but I know we still have a lot more to do."
Then-Mayor-elect Bill de Blasio appointed Farina as schools chancellor in December 2013. She is a former New York City public school teacher, principal, superintendent and deputy chancellor. As the city's website notes, Farina began her career as a teacher at P.S. 29 in Cobble Hill, later going on to become a principal at Manhattan's P.S. 6 and the superintendent of Brooklyn's District 15. Farina was appointed deputy chancellor for teaching and learning in 2004.
Almost two years in, the Amsterdam News asked the schools chancellor how she would evaluate her performance thus far.
"I'm very proud of the fact that the teachers did a satisfaction survey of the principals and it's over 70 percent. The morale is much higher. They know I am a former teacher. I think when I visit schools I can affirm what they are doing because I know what they are doing," she stressed, "and I think that has been a big plus, and I think principals feel the same way ... and superintendents, particularly since I hired half of them. They understand that when I ask them to do something, I am not asking them to do anything that I didn't do myself. And that makes a big difference."
As for parents, Farina states, "I have done over 40 town hall meetings, and I answer questions right at the table from parents. I was a public school parent, and I think that parents understand that I am there for their children."
She said that she had just had a meeting with the new Community Education Council presidents at Tweed Courthouse, the Department of Education's headquarters. "[They were] talking about what they want me to do better or what they want me to know about their specific districts. I have met one-on-one with as many people as I can. I started meeting with the borough presidents. I meet with almost everyone to get a sense of what they need and how I can help," said Farina, stating she is willing to listen and learn.