Anne Spencer, often forgotten poet of the Harlem Renaissance
Herb Boyd | 9/4/2015, 10:28 a.m.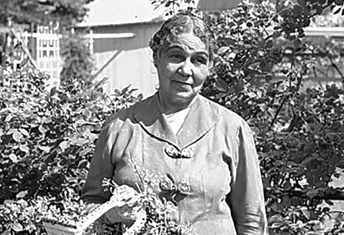 Of the many heralded poets and writers of the fabled Harlem Renaissance, Anne Spencer is among the least known. Her absence from the usual roster of renown may stem from her paucity of poems or her distance from the center of the movement, but not for a lack of elegance and classical style.
That elegance, too, was often framed in brevity, as in her tribute to the great poet Paul Laurence Dunbar: "Ah, how poets sing and die! Make one song and Heaven takes it/Have one heart and Beauty breaks it/Chatterton, Shelley, Keats and I—Ah, how poets sing and die!"
A recent reading of Pamela Newkirk's "Spectacle: The Astonishing Life of Ota Benga," the Congolese captive caged and put on display in New York City in the early 1900s, renewed an interest in Spencer's life. Newkirk, a noted journalist, also provides bits and pieces about Spencer's life and relationship to Benga that is not present in accounts of her literary prowess.
Born Annie Bethel Bannister in 1882 in Henry County, Va., she was of mixed ancestry—Black, white and Native American. Her father was a former slave and her mother the biracial daughter of a wealthy Virginia aristocrat and his enslaved mistress.
Bannister, Newkirk wrote, spent her early years in Martinsville, Va., and later moved to Bramwell, W.Va., after her parents separated. She was placed in foster care with an affluent couple. To some extent, she was homeschooled by her guardians, who didn't want her to be indoctrinated with inferiority by attending a poor colored school, and she was practically illiterate when she enrolled in the Virginia Theological Seminary and College. She was 11 and the entry into higher education was quite challenging.
"In 1899," Newkirk noted, "at age 17, she graduated as the school valedictorian and two years later she married Edward Spencer, the city's first parcel postman. Annie, who favored pants over frilly dresses and poetry over formal religion, continued to delight in simple folks and solitude."
By 1903, the couple was ensconced in a home built by Edward Spencer in Lynchburg, Va. It was here in the stylish Victorian cottage that she began cultivating the garden where she would devote most of her time when she wasn't writing. In 1924, she became the librarian at the Dunbar High School Library. At some point, after Benga's arrival in Lynchburg in 1910, he was tutored by Spencer, and if any of this occurred at her home, it provided him with a commodious and verdant backdrop, possibly redolent and reminiscent of his former rainforest existence.
She may have labored in obscurity if her home wasn't a kind of waystation for celebrated visitors, such as Marian Anderson, Langston Hughes, W.E.B. Du Bois and James Weldon Johnson, who dropped by with regularity. Johnson had come to the city to form a branch of the NAACP. Upon discovering Spencer's poetry, he convinced her to allow him to publish "Before the Feast of Shushan" in the Crisis magazine. "Although most of her verse is about nature," wrote the editors of the "Norton Anthology of African American Literature," "Spencer's best poetry, marked by the irony and some of the complexity typical of literary modernism, tends to be more concerned with gender than with race." Indicative of this penchant are two poems, "Lady, Lady" and "Letter to my Sister."