Critical Condition: Bed-Stuy Vollies in need of lifesaving measures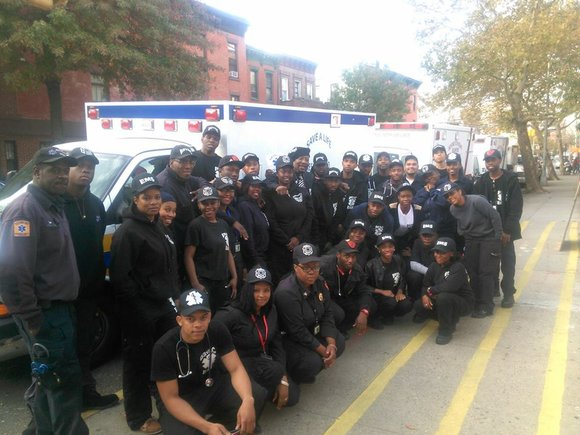 Captain James "Rocky" Robinson's mission was laid out in 1987, when a 7-year- old girl was struck by a car and EMS took too long to get to the scene. He vowed to change things, thus creating the Bedford-Stuyvesant Volunteer Ambulance Corps, locally known as "the Vollies."
"From that moment, I promised God that never again would a child get hurt and lay in the street waiting an hour for someone to come help them," Robinson said. "I decided to make a difference."
Bringing attention to the thousands of lives they have saved after nearly 30 years, the BSVAC is calling on the community and the city for much-needed funding to keep the service alive. A press conference was held Thursday with several community leaders to get the word out.
The Vollies have received international attention for their work. The volunteer EMS is similar to the Jewish Chevra Hatzalah Ambulance Corps in the city. The BSVAC has 15 volunteers who respond to emergency calls in Bed-Stuy. The BSVAC also teaches CPR and first aid to community residents.
The organization made news when they responded to the recent shootingof Carey Gabay, an aide to Gov. Andrew Cuomo. Volunteers applied an Ambu bag face mask to Gabay, dressed his wound and stabilized his head before a Senior Care ambulance arrived to take him to the hospital.
The Vollies were also the first EMS on the scene when NYPD officers Wenjian Liu and Rafael Ramos were fatally shot in 2014. The NYPD is honoring Robinson for the BSVAC's work in trying to save the officer's lives. The BSVAC was also honored by Mayor Bill de Blasio for their help during the Harlem building collapse caused by a gas explosion in 2014.
However, even with international recognition, Robinson said the Vollies are struggling to stay alive. They currently only have two ambulances on the road, far fewer than the seven they had in the early 1990s. Their other five vehicles are not on the road because the BSVAC lacks money to insure them.
"I have to go out of my pocket to pay for things," Robinson said. "Money was coming from all over the world. People were sending donations, putting money in accounts."
Robinson said that when the attention stopped, so did the donations.
Unlike city EMS, the Vollies are only paid when someone needing to be transported to the hospital has insurance or Medicaid. If they help someone on the scene until city EMS arrives, they usually don't get paid. Often times they transport shooting victims who do not have insurance.
At one time, the Vollies received funding from the Short Term Employment Program to pay people while they were training with the BSVAC to become city EMTs. The money came while David Dinkins was mayor and stopped after he left office.
Funding also came from former Rep. Ed Townes. Pfizer and the Prince Hall Freemasonry donated several of the ambulances.
The main source of income for the BSVAC today comes from Robinson's own pension. He said there is no steady income to fund the organization.