AmNews Labor Breakfast honors activists, workers, politicians and those who fight for the cause
9/18/2015, 4:54 p.m.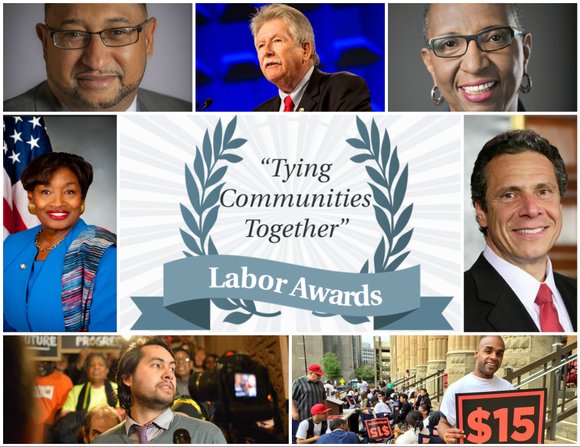 Although they're depicted as operating with different agendas in mind, the annual New York Amsterdam News Labor Breakfast shows what can be achieved when activists, workers and politicians are in sync with each other.
This year's honorees include members of all three groups: New York Gov. Andrew Cuomo, state Sen. Andrea Stewart-Cousins, District Council 37 Executive Director Henry Garrido, International President of Communication Workers of America Chris Shelton, 1199 SEIU Associate General Counsel Gwynne Wilcox, New York Communities for Change Executive Director Jonathan Westin and fast-food workers.
Cuomo has planted his flag on the side of labor and fighting for a living wage. From appointing New York City Office of Labor Services General Counsel Shelia Abdus-Salaam to serve on the New York State Court of Appeals to ending the two-year-long contract dispute between the Metropolitan Transit Authority and the Transit Workers Union Local 100, the governor has presided over a significant time for labor unions.
Recently, Cuomo announced his desire make the $15 hourly minimum wage the norm for all workers in New York and expressed a willingness to make an immediate push in Albany for his proposal. Cuomo's push has the support of other elected officials, labor unions, activists and those interested in not only labor justice but also social justice. Cuomo also praised the recent ruling by a federal appeals court that provides home care workers with minimum wage and overtime protections. Cuomo also recently convened a fast-food wage board to consider making $15 the hourly minimum wage for fast-food workers. They recommended the change.
The life of Stewart-Cousins is filled with firsts. Elected by her colleagues to serve as leader of the Senate Democratic Conference in December 2012, she became the first female leader of a legislative conference in New York history. She's also New York's first female minority leader in the state Senate. In 2009, Stewart-Cousins
also became the first African-American woman to preside over the state Senate.
Stewart-Cousins also served for a decade as a Westchester County legislator, where she was elected majority whip and vice-chair. She also authored and helped pass the county's first human rights laws, smoke-free workplace laws, living wage laws and laws that prosecute predatory lenders, as well as tax cuts for seniors and veterans.
A native New Yorker, Stewart-Cousins currently represents the state's 35th District and is serving her fifth term as state senator.
Garrido's road to executive director of DC 37 is the quintessential American dream. Born in the Dominican Republic, Garrido's life eventually led him to New York and to interests involving labor and architecture. Garrido earned his B.S. in architecture from the City College of New York but decided to not pursue the endeavor further because he loved the stability of his union job. Garrido took over as executive director after the retirement of Lillian Roberts in 2014. Before that, he'd served as an associate director for four years, focussing on policy and administration, including helping to sustain green jobs in New York and investigating city waste via non-union contracting jobs.