Latest on 'the Greatest' by Ishmael Reed
9/18/2015, 1:11 p.m.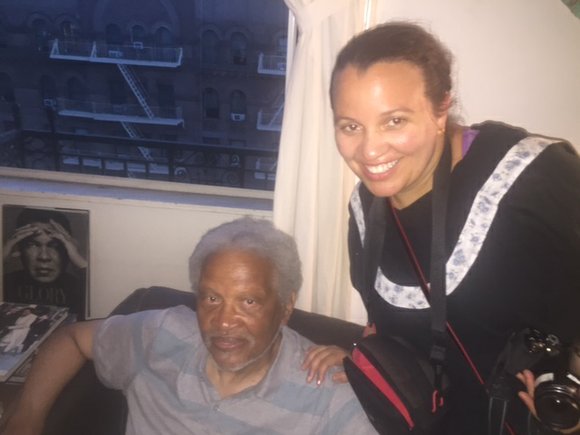 Few African-American writers, no, make that American writers, have been as productive and insightful in their literary careers as Ishmael Reed. Whether fiction or nonfiction, Reed's publications never fail to be provocative and provide a fresh perspective on our culture and history.
During a recent appearance at Quincy and Margaret Troupe's salon and gallery in Harlem, Reed discussed his latest book, "The Complete Muhammad Ali" (Baraka Books, 2015). Only a few days from their monthlong sojourn in Mississippi to participate in their Gloster Project, which provides cultural enrichment to the children of the area, the Troupes presented Reed with a platform and forum to showcase his assessment of Ali.
Reed, accompanied by his daughter Tennessee, began the session by reading briefly from a chapter in the book that focused on the ties between the Nation of Islam and organized crime. But Reed is a raconteur, a beguiling storyteller who is at his best reciting his encounters, and for nearly an hour he regaled the audience.
"The Nation of Islam sent a message to the Gambino family that if anything happened to Ali, they would kill all of the family members … including Frank Sinatra," Reed said, recounting what Agieb Bilal had told him about the tension between the NOI and the mafia.
This episode was just one of many that Reed discussed in wide-ranging comments about the book and the people he had interviewed over the past decade or so. At the beginning of the presentation, he had given the listeners some indication of the book's purpose, which was very similar to what he wrote:
"I call this book 'The Complete Muhammad Ali' because most of the 100 books about the champion, the majority of which are worshipful, are either too adoring or make excessively negative assertions, like Jack Cashill's blaming Ali and Gerald Ford for the loss of Vietnam. For Mark Kram, Ali is a malicious buffoon. For Thomas Hauser, he's a saint, though Hauser's opinion has changed."
And after reading this book, others will probably be changed in their opinions about Ali because Reed allows his interviewees a grand opportunity to express themselves in responding to Reed's probing questions and sometimes to his questionnaire, one of them asking if there's a feud between Ali and Minister Louis Farrakhan.
Of the many respondents, Bilal was among the most interesting and informative, particularly his remarks on the relationship between Elijah Muhammad and Malcolm X. From his position as assistant national secretary in the NOI from 1972 to 1975, he was in the catbird seat to witness the inner workings of the organization. He explained that Muhammad sent Malcolm overseas in 1959, "to test the waters."
Bilal told Reed that there were three different things that led to Malcolm's disillusionment with the NOI. "He didn't feel the Nation of Islam was involving itself enough in the struggles of Black people on the frontlines," Bilal began. Another issue that bothered Malcolm, he continued, was the NOI's inadequate response to the police murder of Ronald Stokes, a NOI member, in Los Angeles in 1962. Then, of course, there were the revelations that Muhammad had fathered children with his secretaries. Even more telling was when Bilal said how Malcolm witnessed Muhammad "slapping a sister, which was totally out of character."