Pope Francis gets political in Washington debut
By Stephen Collinson and Daniel Burke, CNN | 9/23/2015, 5:14 p.m.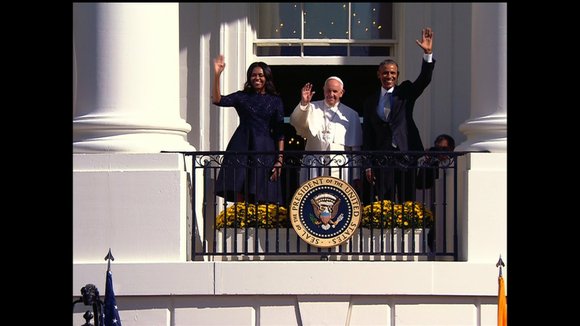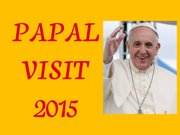 WASHINGTON (CNN) -- Pope Francis immediately dove into the whirlpool of U.S. politics on Wednesday, using his first direct address to the nation to weigh in on deeply divisive issues including climate change, Cuba, and traditional marriage as he was greeted by exuberant crowds packing the streets of Washington.
The pontiff lived up to his reputation for blunt talk at a welcoming ceremony at the White House, introducing himself as the son of the kind of "immigrant family" on which America was built -- a clear reference to the controversy swirling around millions of undocumented people in the country.
Speaking in English, the Argentine-born Francis also said he was ready to listen to the "hopes and dreams of the American people" and to offer guidance to those charged with shaping the nation's political future "in fidelity to its founding principles." And in comments that could antagonize Republicans, Francis endorsed President Barack Obama's efforts on climate change and rebuilding ties with Cuba after more than half a century of estrangement.
He told the president that it was "encouraging that you are proposing an initiative for reducing air pollution. Accepting the urgency, it seems clear to me also that climate change is a problem that can no longer be left to a future generation
"When it comes to the care of our 'common home' we are living at a critical moment of history," he said.
Francis is using the global platform offered by his first-ever visit to the United States to emphasize the theme at the center of his two-year-old papacy: challenges like climate change, income inequality and the plight of immigrants are moral -- not political -- issues. And, he said, the richest, most developed countries have an obligation to act.
"I would like all men and women of good will in this great nation to support the efforts of the international community to protect the vulnerable in our world and to stimulate integral and inclusive models of development," Francis said, in comments that reflect what he sees as a more inclusive vision of capitalism.
While some of these themes were sure to please the left, he also delivered a firm defense of traditional values, warning that the institution of marriage and family needed to be protected at "a critical moment in the history of our civilization." Those remarks could irk liberals months after the Supreme Court ruled in favor of same-sex marriage nationwide.
He said that it was right that society was "tolerant and inclusive" but warned that American Catholics were "concerned that efforts to build a just and wisely ordered society respect their deepest concerns and their right to religious liberty. That freedom remains one of America's most precious possessions."
Obama gently -- but pointedly -- argued that "here in the United States, we cherish religious liberty."
Obama and first lady Michelle Obama earlier greeted the Pope at the White House as he stepped out of his small black Fiat, which he is using to make a statement of humility in Washington, a city full of limos and hulking government SUVs. In another nod to Francis' pared down style, the White House dispensed with the 21-gun salute to which he is entitled as the titular head of the Vatican state.