House Speaker John Boehner: 'I decided today is the day'
By Dana Bash, Manu Raju, Deirdre Walsh and Jeremy Diamond, CNN | 9/25/2015, 2:14 p.m.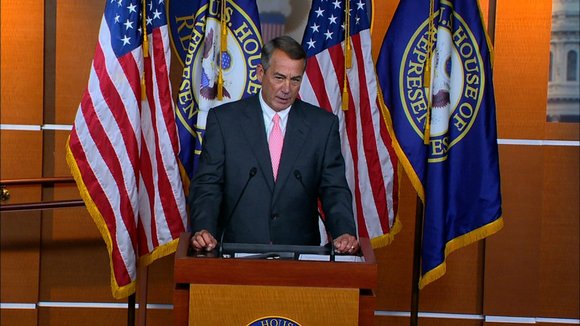 WASHINGTON (CNN) -- John Boehner, the Ohio Republican who steered his party to an overwhelming House majority in 2010, said in a news conference Friday afternoon he had decided only that morning to announce his plans to resign from Congress.
"Last night I started thinking about this and this morning I woke up and I said my prayers -- as I always do -- and I decided today's the day I'm going to do this. As simple as that," Boehner said during an emotional Capitol Hill press conference.
He will step down as Speaker and leave Congress at the end of October.
The Ohio Republican's tenure as Speaker has been marked by clashes with conservatives -- especially when it comes to fiscal policy. He's struggled to push through legislation to increase the debt ceiling and was facing another showdown next week to keep the government open. The Speaker has often relied on Democratic votes during these moments -- a strategy that has infuriated conservatives.
Boehner said Friday that he had planned to step down at the end of the year but turmoil within his caucus prompted him to resign earlier than planned.
"I got plenty of people following me but this turmoil that's been churning now for a couple of months, it's not good for the members and it's not good for the institution. If I was not planning on leaving here soon, I can tell you I would not have done it," Boehner said.
The abrupt decision comes amid heavy pressure from conservatives for Boehner to take a harder line on their causes, most recently over defunding Planned Parenthood as part of a package that would keep the government open. Boehner said he didn't want to put his fellow members through another vote to challenge his leadership.
Boehner, who has presided over the House since 2011, explained during a closed-door meeting with Republicans Friday morning that he had only planned to serve two terms as Speaker but decided to hold onto his post after then-House Majority Leader Eric Cantor lost his seat during a primary last year.
Boehner also told the lawmakers that Pope Francis' visit to Congress the day before was a crystallizing moment, according to the lawmaker. Boehner then read the prayer of St. Francis to the conference after announcing his decision.
Why now
Boehner said the main driver behind his resignation was concern for his conference, he also recalled emotionally when he and the Pope found themselves alone during the visit Thursday -- something Boehner, a devout Catholic, had sought since taking the helm of the House GOP caucus.
"The pope puts his arm around me and kind of pulls me to him and says please pray for me. Who am I to pray for the pope? But I did," Boehner said, struggling to hold back tears.
Boehner also drew on the Pope's words during his address to Congress on Thursday and said he hoped "we will all heed his call to live by the Golden Rule." He also stressed the importance for leaders to "find common ground to get things done."