It's April, it's spring and it's time for baseball
Vincent Davis | 4/1/2016, 9:46 a.m.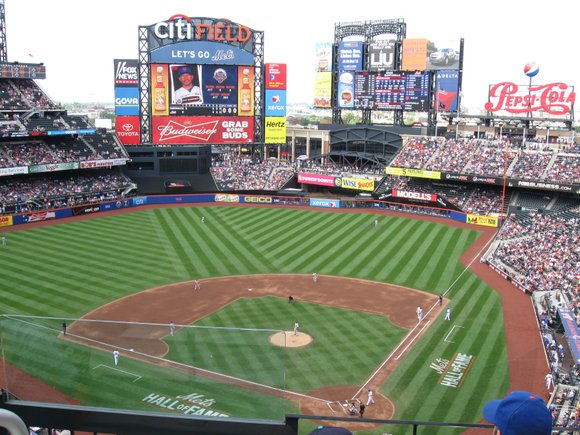 The Yankees claim that Comcast wants to raise prices and provide less service to its customers.
On the field, lefty relief pitcher Aroldis Chapman, who the Yankees acquired during the off-season from the Cincinnati Reds for four minor league prospects, must sit out the first 30 games of their 162-game schedule—discipline handed down by Major League Baseball because of a domestic violence incident that occurred between Chapman and his girlfriend in his home last October. Chapman is the first player to be penalized under Major League Baseball's new Joint Domestic Violence, Sexual Assault and Child Abuse policy.
"We acquired him understanding, knowing and expecting that there was a period of time that he would not be available to us," said Brian Cashman, the Yankees' general manager, during a press conference to announce the signing and to specifically address and explain the situation at hand.
"We felt this was an opportunity for us to add a big arm to our bullpen, even though there are some things that are unresolved, and we will respect that process as it plays out," Cashman further stated.
The Cuban born Chapman, 28, a National League All-Star the past four seasons, who defected in 2009, admitted to police that he fired eight gunshots into the wall of his garage after an argument with his girlfriend, who alleged that he choked her. Chapman was not arrested by police or charged with a crime. The suspension will cost him $1,856,557 of his $11,325,000 salary. He was able to work out with the Yankees during spring training but cannot appear on the team's regular-season roster until May 9. Chapman will then join left-hander Andrew Miller and right-hander Dellin Betances in the late innings, 7th, 8th and 9th, giving the Yankees the top three strikeout relievers in the major leagues.
Chapman first attempted to defect from Cuba in the spring of 2008, but failed. Cuban President Raúl Castro gave him a conditional reprieve, suspending him from the Cuban baseball season and keeping him off Cuba's national team for the 2008 Summer Olympics. He was allowed to play Cuban baseball in 2009 and to play in the World Baseball Classic.
Chapman successfully defected while in Rotterdam, Netherlands, where the Cuban national team was then playing. On July 1, 2009, Chapman walked out of the front door of the team's hotel and got into a waiting car driven by an acquaintance. He eventually established residency in Andorra, a sovereign state in southwestern Europe, bordered by Spain and France,and petitioned Major League Baseball to be granted free-agent status. Six months later, in January 2010, Chapman was signed to a six-year deal with the Reds. He made his major league debut Aug. 31, 2010, in the eighth inning against the Milwaukee Brewers. His first pitch, a strike, was clocked at 98 miles per hour.
In a prepared statement, Chapman said, "I accepted a 30-game suspension from Major League Baseball resulting from my actions on October 30, 2015. I want to be clear, I did not in any way harm my girlfriend that evening. However, I should have exercised better judgment with respect to my actions, and for that I am sorry."
Chapman added, "I made this decision in an effort to minimize the distractions that an appeal would cause the Yankees, my new teammates and most importantly, my family. I have learned from this matter, and I look forward to being part of the Yankees' quest for a 28th World Series title."
From the most expensive seats behind the plate to the "bleacher creatures" out in right, Section 203, Yankee fans want their 28th.