The BCA Global Food & Wine Experience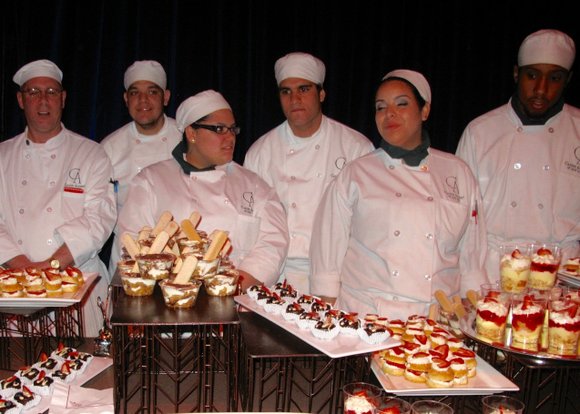 The Black Culinary Alliance's 12th annual Global Food & Wine Experience will take place tomorrow, Friday, April 8, at Espace, 635 W. 42nd St. in Manhattan, beginning at 7 p.m. Assisted by more than 50 culinary students, food and wine industry professionals will sample foods and wines from their restaurants, vineyards and businesses.
BCAGlobal's continuing mission is "building diversity in the culinary and hospitality industries." This year's Vision in Wine Award honoree, Selena Cuffe, is the founder of Heritage Link Brands, the largest importer of wines made by indigenous Africans.
Participating restaurants, chefs and personalities include two-time Chopped Food Network Champion Chef Marc Bynum, with Hush Bistro, and New York's only Black-owned gourmet ice cream cafe, Brooklyn Bell. Harlem will be represented by the famous Make My Cake and the new rum bar Solomon & Kuff and its owner and mixologist Karl Franz.
Look out for coconut curry shrimp with pineapple slaw, herbed okra polenta with seared scallops, crispy pork and callaloo, cured egg yolk crème fraiche, buttermilk biscuit with herbed ricotta and crispy chicken skin and oxtail rillettes with habanero mango jam. There will be so much more, too.
For more information and to purchase tickets, visit https://goo.gl/lfBWu8.