'The Divine One,' Sarah Vaughan, a vocalist of extraordinary range
Herb Boyd | 4/7/2016, 2:43 p.m.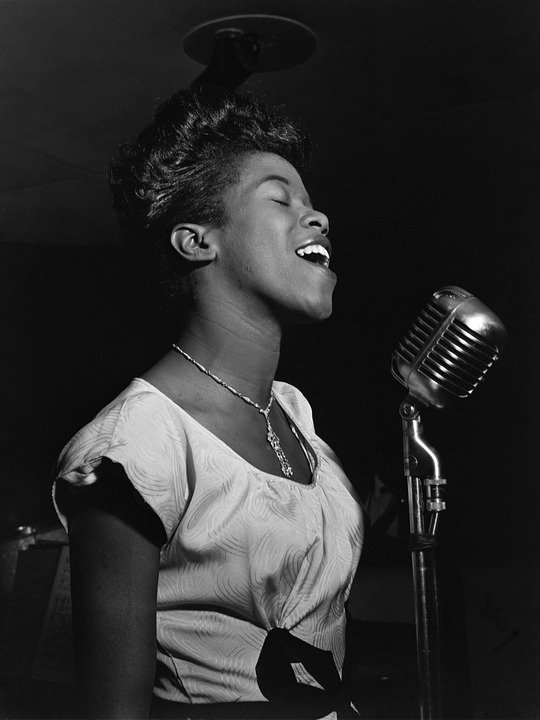 When her recording of "Broken Hearted Melody" climbed on the charts, it was a surprise to listeners more accustomed to her jazzy style, but they, nonetheless, welcomed her reach into the pop market and whatever monetary rewards it brought.
Even so, it was her concert engagements, where she could invest her songs with the typical Vaughan flair, that she relished. Soon, the requests for "Send in the Clowns," outnumbered all of her other songs, and it was a composition that allowed her to apply the full extent of her musical arsenal.
During some of the engagements, she would accompany herself on piano, as she often did at the beginning of her career. She was particularly adept at the keyboard on the ballads that were at the center of her vast collection of tunes.
Perhaps the most rewarding comments about her vocal abilities were voiced by fellow musicians, many of whom longed for an opportunity to perform with her. A collector's item is her recording with trumpeter and composer Clifford Brown on "In the Land of Hi Fi." In that musical invention, her intuitive feel for a tune was never more captivating than her spirited romp on Ray Noble's "Cherokee." Her speed and swing equaled Brown's note for note, and their syncopation was simpatico.
"I don't think I ever modeled myself after a singer," she told a reporter. "I've more or less copied the styles of horn-tooters right from the start." That identification with the "horn-tooters" was consistently displayed whether in concert or in the recording studio.
Vaughan's unlimited versatility surfaced again during the samba or bossa nova craze, and one of the favorites from this period is "Copacabana," released in 1979. It's almost possible to envision the blue skies and the beach she invokes about the fascinating environment of Brazil.
For the magic and majesty of her voice and recordings, it wasn't until 1982, with her recording of "Gershwin Live!," that she won her first Grammy. Her final concert occurred at the legendary Blue Note club in 1989. A year later, April 3, she died of lung cancer in Hidden Hills, a suburb of Los Angeles. She was 66.
Her many recordings are part of her legacy that also is implanted on the Hollywood Walk of Fame.