Talking SCHOP! An evergreen friendship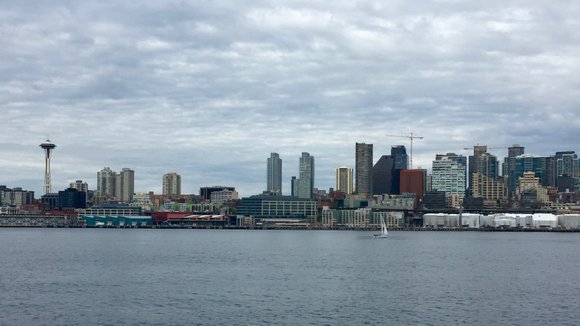 One of my besties, Raquel, moved out to Seattle with my nephew at the end of last year to a vat of my tears. I know it is the best for her and her family, but I miss my girl, and I could go no longer than a couple of months without a laughing/crying sesh' with her. I hopped on a plane and off I went to the Evergreen State (named for its abundance of evergreen forests).
Raquel took a couple of days off of work so we could hang. My arrival to, I must say, the cleanest air I think I have breathed in a long time (and unprecedented sunny weather) fell right on time for a post-work reunion at Sea-Tac Arrivals. Raquel wasted no time on our drive towards home, pointing out all of the sights, downloading me on all of the goings-on and planning our schedule of events, which, if you know us, means some damn good food.
Without even dropping my bags at home first, Raquel beelined the Subaru to Ballard Avenue. We were going to a restaurant we heard about from the chef of Houseman on our final NYC day out. She had already been there and loved it. It would be the appropriate bookend as our first meal in Seattle. We arrived to The Walrus & The Carpenter (@TheWalrusBar) with smiles on our faces.
The small but cozy and homey space of The Walrus & The Carpenter is nestled in the back of a building. Raquel and I sidled up to the bar with a pole position to view the kitchen at work and the bushels of fresh Pacific Northwest oysters on ice awaiting their fates. And this delicacy is where we would start: two varieties of Hama Hama oysters and some Deep Bay oysters from Vancouver, B.C. Their perfect mignonette, a couple of eye rolls and voila, "Welcome to Seattle!" I'd tasted the fruit of their waters!
We progressed to the rest of our meal, starting with charred leek salad with tonnato (a tuna mayo) and pickled red onion. Blew our minds! I am adding that sauce to my repertoire. We returned to oysters but cornmeal-battered and fried this time, with cilantro aioli. Hot, crisp and juicy as all get out!
We became the Thelma and Louise of eating: "just keep going ..." And we did, with scallop crudo with crème fraiche, sauce vert and steelhead roe, Yorkshire pudding filled with pork ragu and grilled sardines with walnut, parsley and shallot vinaigrette.
We pushed away from the bar and, as if making up for lost time, we took a brisk constitutional walk to one of Raquel's favorite sweet spots, Hot Cakes (@GetYourHotCakes). There at the molten chocolate cakery, we patiently waited for a fresh baked hot chocolate chip cookie topped with a scoop of cold vanilla ice cream, sea salt caramel sauce and chocolate crumbles to share. #Stuffed!
This feast occurred in only the first few hours of my four-day reunion in Seattle. There are many brunches, lunches, snacks, dinners and desserts to regale you with, and they're all waiting on the blog at www.talkingSCHOP.wordpress.com!
Happy eating and thanks for reading!
Kysha Harris is a food writer, culinary producer, consultant and owner of SCHOP!, a personalized food service offering weekly and in-home entertaining packages. Questions? Comments? Requests? Feedback? Invitations! Email her at kysha@iSCHOP.com, follow her on Twitter and Instagram @SCHOPgirl or on Facebook www.facebook.com/SCHOPnyc. For even more recipes, tips and food musings subscribe to her blog at www.talkingSCHOP.wordpress.com. Follow AmNewsFOOD @NYAmNewsFOOD