Hillary's Agenda: Clinton speaks at NAN convention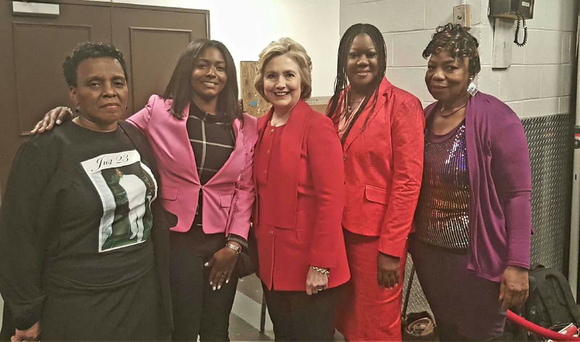 With the snip of a ribbon, the Rev. Al Sharpton kicked off the National Action Convention's National Convention in Midtown Manhattan Wednesday. The event also marks NANs 25 anniversary.
The four-day event features panel discussions, guest speakers and strategizing on civil rights and social justice. Sharpton was joined by a host of elected officials, including Mayor Bill de Blasio, who gave Sharpton a proclamation making Wednesday National Action Network Day in New York City.
"While we have made tremendous gains in many areas, our work is not done," Sharpton said. "Today we face challenges from renewed voter suppression tactics to criminalization and demonization of the poor."
The highlight of Wednesday's kickoff was the midday plenary session featuring Democratic presidential candidate Hillary Clinton. The former U.S. senator for New York and secretary of state is in town this week securing votes ahead of next week's primary election.
Sanders, who is also in the city, is scheduled to speak at the convention Thursday.
Clinton's speech Wednesday touched on a myriad of issues facing Blacks in America, including civil rights, police brutality, discrimination, violence and economic equality.
"America's struggle with racism is far from finished," she said, highlighting Republican candidate Donald Trump's issues in regard to to race relations, most notably his nonchalant attitude toward support from white supremacists.
"Race still plays a significant role in determining who gets ahead in America and who gets left behind," she said.
Clinton listed some of the inequalities Blacks continue face, including unfair income, denial of mortgages and harsher penalties for the same crimes as whites. She added that it was time for America to face up to the reality of systemic racism and for whites to realize their privilege.
"Once we do, we are called to come together to break down all the barriers that still hold African-Americans back from fully participating in our economy and our society," she said. "White Americans need to do a better of job of listening when African-Americans talk about the seen and unseen barriers you face everyday."
Highlighting her "Breaking Every Barrier Agenda" released in February, Clinton outlined her plan to invest $125 billion to create jobs, rebuild infrastructure and connect housing to opportunity in communities that are being left behind. The money will come from putting a tax on Wall Street.
She also wants the agenda to improve education for every child, end the school-to-prison pipeline, improve health and nutrition and end environmental justice.
Clinton closed her speech calling the names of several mothers of unarmed Black men who have been killed, including Gwen Carr, the mother of Eric Garner; Sybrina Fulton, the mother of Trayvon Martin; and Valerie Bell, the mother of Sean Bell, who was with Nicole Paultre-Bell, his fiance.
Committing to having her door always open if elected president, Clinton said that her fight for equality will continue when she goes to the White House.
"Democrats have a special obligation," she said. "If we are going to ask African-Americans to vote for us, we cannot take you or your vote for granted. We can't just show up at election time and say the right things and think that's enough. We have to demonstrate a sustained commitment to building opportunity, creating prosperity and righting wrongs."