Joosed! Lloyd's Carrot Cake celebrates 30th anniversary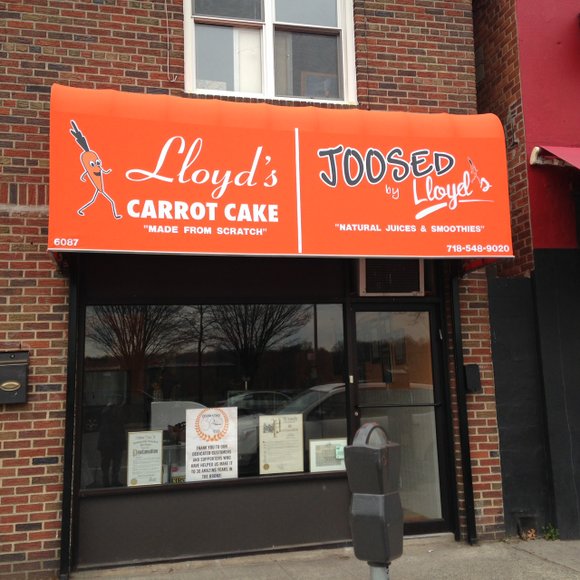 While celebrating their 30th anniversary, Lloyd's Carrot Cake expands to a retail space that's right next to 6087 Broadway, Bronx, N.Y. Their new shop will feature a new juice bar called Joosed by Lloyd's. If you've ever walked up Broadway north of the West 242nd Street train station, across from Van Cortland Park, closer to the corner of West 251st Street, you will enjoy the aroma of sweet scents coming from Lloyd's Carrot Cake's bakery. The aroma invites you into the shop, and when you get there, it's all about a slice, pies, cupcakes or whole cakes to take home and devour. During the holidays, folks from all over the tristate area line up outside of the shop, which is known for its fine quality and delicious cakes.
A ribbon-cutting was held April 9 to officially open the new shop, right next door from the original bakery, where, along with their famous carrot cake, cupcakes, muffins and cake slices, you can now enjoy your favorite juice concoctions. Joosed by Lloyd's will also be featured at their 1555 Lexington Ave. shop.
"We're firm believers in the concept that the possibilities are endless when you take natural ingredients and add a little bit of creativity, ingenuity and love," said Betty Campbell-Adams, Lloyd's owner. The store has recently received an award for Exemplary Leadership and Dedication to the People of New York from State Sen. Jeffrey D. Klein. Over the years, Lloyd's Carrot Cake has also been featured in the New York Amsterdam News, The New York Times, the New York Daily News, Crains New York Business and the Bronx News.
Lloyd Adams started the business out of an East Harlem apartment building in the early 1980s, and it grew to its current storefront location in the Bronx in 1986. For dessert lovers, Lloyd's Carrot Cake has become a staple, and it is a wonderful business model for small businesses. Having been lauded for its business savvy and amazing cakes and pies, Lloyd's Carrot Cake is poised to make the next 30 years even better than the first.
"The expansion and juice bar addition is a great way to balance out the sweetness of what we do with Lloyd's Carrot Cake with something that's a little more natural," remarked Campbell-Adams. "We're proud to present Joosed by Lloyd's in NYC."
It's a one-stop shop for all natural juices, smoothies, specialty teas and healthy snacks. There's no better time to start treating your body a little better. Located across the street from Van Cortland Park, this place will hit the spot. So stop in and invest in your health.