National Jazz Museum in Harlem hosts opening fete
T. A. Moreland | 4/14/2016, 10:34 a.m.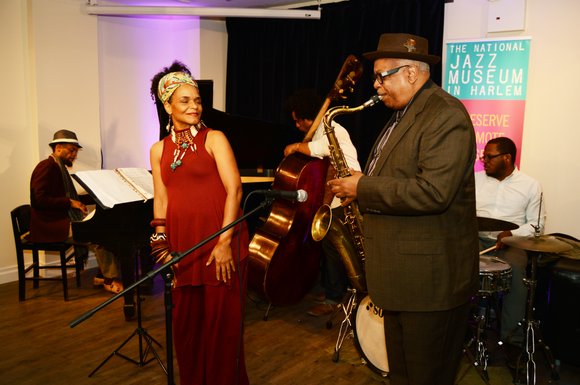 Special to the AmNews
March 29 was a special night. At 58 West 129th St. and Lenox Avenue, the National Jazz Museum in Harlem hosted its opening celebration. A lively, diverse crowd participated in the gala event.

The celebration featured a star-studded list of performers, which included pianist Marc Cary with vocalist Terri Davis, tenor saxophonist Bill Saxton, drummer Russell Carter and bassist Rahsaan Carter.
There were comments by NJMH Founding Director and Grammy Award winner Loren Schoenberg. Harold Closter from the Smithsonian Institution, of which NJMH is an affiliate, also addressed attendees, as did Tim Porter, the new chairman of the NJMH's Board of Directors.
Among other luminaries in attendance were Kenneth Knuckles, president and CEO of the Upper Manhattan Empowerment Zone; Mercedes Ellington, accomplished dancer and granddaughter of Duke Ellington; and Lloyd Williams, CEO of the Harlem Chamber of Commerce.
The purpose of NJMH is to preserve, promote and present jazz by inspiring knowledge, appreciation and celebration of jazz locally, nationally and internationally. The goal is to keep jazz at the forefront of musical visibility and in the lives of a diverse range of audiences.
Some of the upcoming events at the museum include Urban Design, Jazz and Creativity, Tuesday, April 12, 2016, 7 p.m.; Jazz, Baroque Design and Beyond, Tuesday, April 19, 2016, 7 p.m.; and Cannonball Adderley—The 1950s, Thursday, April 21, 2016, 7 p.m.
For more information and for a complete list of activities and events, please go to jazzmuseuminharlem.org.