Somali Art Bloosom in Minneapolis
4/14/2016, 12:04 p.m.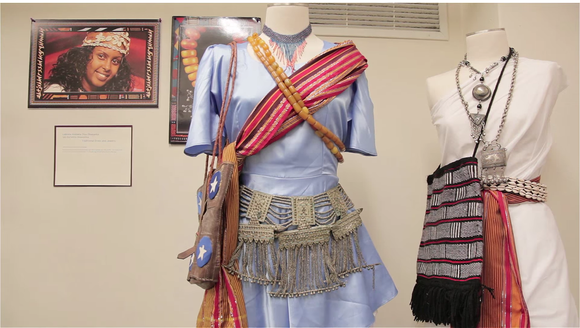 (GIN)—Traditional Somali culture has found a home away from home.
Scattered to the four winds during years of war and unrest, traditional handmade items have found their way to a safe place in the Somali Museum of Minnesota, amid one of the world's largest Somali diaspora populations.
It may be the only museum in the world dedicated to preserving Somali culture.
"Immigrant populations in Minnesota must explore and craft the ways they will carry their culture forward as they build their community in the United States," the museum organizers wrote on the center's website.
Among the museum's offerings are tours for professional groups and employee training that focuses on the aspects of Somali culture that influence life for Minnesotan-Somalis. Visitors can listen to a "Somali Culture 101" lecture and ask questions about the Somali people and traditions.
The cultural center was the dream of Osman Ali, a Minneapolis restaurant owner who over the years collected more than 700 items, including paintings, jewelry, weapons, woven rugs and hand-carved wooden bowls and tea sets. Approximately half of the items are on display at the museum.
"The rest came from other people, including friends, who are still there," Ali said. He appeared at local radio and TV stations in Somalia and announced his museum project. "I asked them to collect for me and send the items by cargo."
Before establishing the museum as a permanent home for the artifacts, Ali had shown his collection at local libraries and schools. Now he hopes the museum can be a place for Somali-American children to reclaim their heritage and non-Somali children to learn more about the country.
Born in Somalia, a young man named Mohamud fled the country's civil war with his family when he was 9.
"I was born in Somalia, but I did not see all these beautiful things that I see right now," Mohamud said of the museum's collection. "These are things that I've never seen in my life. It's like something I want to relate to my identity, where I come from and what kind of people I belong to. I never knew one day I could see a Somali museum here in Minneapolis."
A new class in Somali language and poetry begins this month. Other classes include Somali Kebed weaving and traditional Somali dance. For more information, visit the website www.somalimuseum.org.