What to watch at CNN's key Clinton-Sanders debate in New York
MJ Lee and Chris Moody, CNN | 4/14/2016, 5:35 p.m.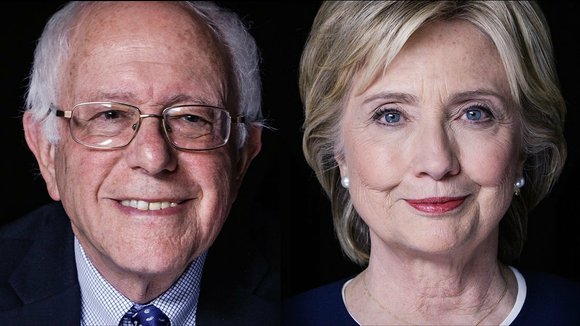 NEW YORK (CNN) -- Hillary Clinton and Bernie Sanders will face off in CNN's Democratic presidential debate in Brooklyn Thursday night as they spar ahead of a critical contest in New York -- a state where both candidates have deep roots.
The April 19 primary here will come as Clinton -- whose campaign has been dogged by Sanders' unexpected endurance -- is on an urgent mission to widen her delegate lead and lock up her party's nomination.
Next week's contest will serve as one of Sanders' last opportunities to change the dynamics of the Democratic race. And in turn, it will offer Clinton a crucial opening to once and for all shake the pervasive narrative that her rival -- even as he lags behind in the delegate count -- continues to enjoy real momentum; tens of thousands of Sanders supporters rallied in Washington Square Park in Manhattan Wednesday night.
In a sign of the mounting pressure for both candidates, over the past few weeks, their exchanges on the campaign trail have grown increasingly bitter. Sanders has publicly questioned Clinton's judgment and credibility, while Clinton has hit back by accusing her rival of being inexperienced and promoting an unrealistic platform.
Next week's contest will also be an especially personal one for both Democratic hopefuls.
Clinton, who served as the state's senator for eight years, currently has a home in Chappaqua and chose to base her campaign headquarters in Brooklyn. Sanders, meanwhile, was born and raised in Brooklyn and still has a thick New York accent.
Both candidates are also insistent that they are best equipped to take on Republican front-runner Donald Trump -- another New Yorker.
Here is to watch when the two square off:
Things could get nasty
Thursday's Democratic debate could be the feistiest yet.
Over the past few weeks, Clinton and Sanders have ramped up their attacks, hitting each other harder on both character and policy. The new tenor of the race is in stark contrast to the earliest stages of the race, when the two candidates were cordial and made painstaking efforts to avoid going after each other.
Sanders, in particular, prided himself in running a positive campaign, constantly reminding voters that he had never run a negative ad in his political career.
But with the Democratic race dragging on into the spring, fresh tensions are bubbling up to the surface.
Pointing to issues like Clinton's ties to Wall Street and her vote for the Iraq War, Sanders said over the weekend that when it comes to Clinton's judgment, "something is clearly lacking." The senator also went on to tell CNN's Jake Tapper that he found Clinton's recent remarks about young voters -- in which she said they sometimes buy into incorrect information and "don't do their own research" -- to be "a little bit condescending."
Things grew even more heated when the Sanders campaign put out a press release questioning Clinton's credibility this week -- an attack that was met with ferocious pushback.