6 Takeaways: Democrats tangle at New York debate
Chris Moody, CNN Senior Digital Correspondent | 4/15/2016, 9:07 a.m.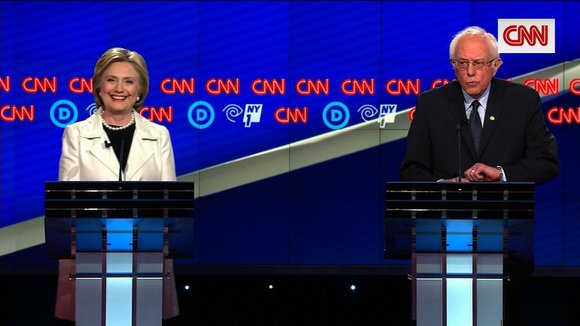 NEW YORK (CNN) -- Hillary Clinton and Bernie Sanders tangled over her judgment and his grasp of policy in a tense and at times personal debate here Thursday, less than a week before the pivotal New York primary.
Held in prime time and on a weeknight -- unlike most Democratic debates -- the CNN-sponsored event was the highest-profile opportunity for both campaigns to make their final arguments before Tuesday's crucial vote in a state where both contenders have strong roots. Clinton is looking to New York to solidify her role as front-runner, while a strong showing -- or a victory -- for Sanders would deal a significant blow to her confidence and bolster his campaign's argument that the party's so-called super delegates should switch their allegiance to him.
Here are five takeaways from the most combative Democratic debate yet:
1. A question of judgment
The Democratic candidates took sharp aim at one another almost immediately over a series of issues, including the Iraq War, Wall Street and questions about judgment and qualifications to be president.
Both contenders shifted back and forth between offense and defense, a sharp departure from the calmer tone of the party's earlier debates.
Sanders began by explaining a recent comment he made on the campaign trail in which he suggested Clinton was "unqualified" to be president.
"Does Secretary Clinton have the experience and intelligence to be president? Of course she does. But I do question her judgment," Sanders said, pointing to her Senate vote for war in Iraq, her willingness for her campaign to benefit from millions of dollars spent on her behalf by super PACs and her relationship to Wall Street.
"Senator Sanders did call me unqualified. I've been called a lot of things in my life. That was a first," Clinton responded, pointing to the fact that she was elected twice to the Senate and chosen as secretary of state.
Clinton then counter-attacked, citing an interview Sanders gave to the New York Daily News in which he struggled to provide specifics about his plans for breaking up banks and other issues.
"Talk about judgment and talk about the kinds of difficulty he had answering questions, including his core issues," Clinton said.
The sparring continued throughout the night, so much so that at one point, CNN debate moderator Wolf Blitzer moved to break up the fighters.
"If you're both screaming at each other, the viewers won't be able to hear either of you," Blitzer said after Clinton and Sanders spent several seconds talking over each other.
2. Clinton further than ever from a general election pivot
Just a month ago, Clinton appeared poised and eager to pivot to the general election and start building a case against a Republican nominee.
But Thursday's attacks on Sanders showed that her campaign realizes that she has to turn all of her attention to her left flank.
At previous debates, she seemed to spend as much time talking about Republicans as Sanders. Not in Brooklyn.