Killer cop spared jail time
NAYABA ARINDE and AUTODIDACT 17 | 4/21/2016, 11:28 a.m.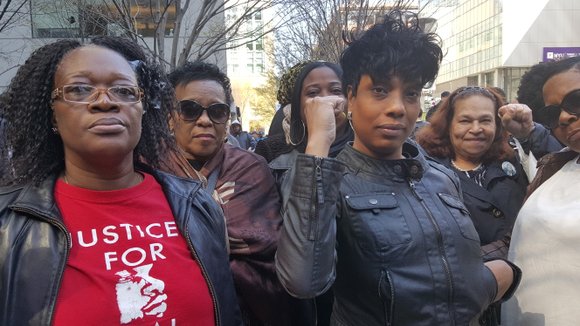 "How many times does the DA Ken Thompson, NYPD and the courts want to kill Akai Gurley?" a distraught Hertencia Petersen wailed, after Brooklyn Supreme Court judge Danny Chun decided to allow the (now ex-cop) killer of her nephew to go home with no jail time. The pain of the weeping family members and supporters was palatable.
"It's clear that the lives of police officers are valued above justice," declared Gurley's mother, Sylvia Palmer. "This system and its agents should no longer claim to be about justice because they only produce injustice. They do not value Black lives with their actions."
Tuesday, April 19, Brooklyn Supreme Court was packed with the family of the convicted felon, ex-cop Peter Liang, officials from DA Thompson's office, PBA members and other police, the press—with a few seats for Gurley's family and supporters. With one pool camera and one still photographer allowed to record the proceedings, Justice Chun delivered his sentence slowly and with what appeared to be some trepidation.
Officials from Thompson's office listened intently as Chun sentenced Liang only to five years of probation and 800 hours community service for his Nov. 20, 2014 unprovoked killing of Gurley in the stairwell of a public housing project in East New York, Brooklyn.
Chun reduced Liang's manslaughter conviction to criminally negligent homicide before handing down his sentence.
"There's no evidence Peter Liang was aware of Akai Gurley's presence," Chun said. "I looked at the video of Peter Liang entering the Pink Houses that night, and he entered with a good frame of mind. Shooting and killing someone was the last thing on his mind. Incarceration is not necessary."
Melissa Butler, the young woman who had tried to save Gurley's life with CPR, broke down in uncontrollable tears, as did her mother, Naomi.
Outside the court, as a sectioned-off group of Liang's supporters cheered the decision, fired-up Gurley supporters did the opposite, arguing that the cop's actions were reckless and caused Gurley to lose his life, and therefore he should still be held accountable.
"When a jury convicts a defendant of manslaughter in the second-degree and for a judge to overturn a jury's conviction like he's a little dictator in the court is an absurd miscarriage of justice," said Charles Barron, New York State Assembly member and founding member of Operation POWER.
Roger Wareham, attorney for Melissa Butler told the Amsterdam News, "The decision by Judge Chun at the Peter Liang sentencing—no prison, no house arrest, reduction of the jury conviction from a 'C' to an 'E' felony, 800 hours of community service, five years probation—reflects the reality of systemic racism in the United States of America. Systemic racism means just that, a system that keeps producing the same result, the subjugation and extermination of Black people. The law enforcement and/or white vigilante personnel who carry out this subjugation/extermination are almost never punished for their deeds. This is because from the white supremacist system's point of view, the victims are actually criminals—guilty of 'breathing while Black.' Indeed, the taking of Black life is not worthy of punishment. And, just as importantly, the race of those carrying out the system's dictates is irrelevant. Remember, Black police enforced apartheid in South Africa. Hopefully this painful, but enlightening, lesson will dispel any remaining illusions about 'criminal' justice and force our community to develop and implement more effective strategies and tactics to secure and protect our human rights."