Ramarley Graham supporters urge de Blasio to fire killer cops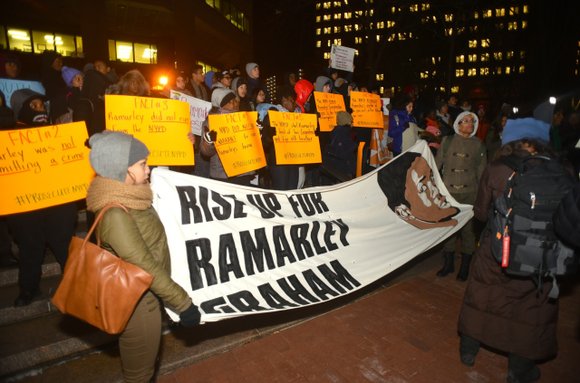 Tuesday afternoon, April 12—what would have been Ramarley Graham's 23rd birthday—a diverse assortment of activists displayed the power of the people by converging on City Hall to deliver a petition supported by approximately 60,000 signatures to Mayor Bill de Blasio's office.
The campaign demands that the mayor fire the NYPD's Richard Haste, who unlawfully entered Graham's Bronx home on Feb. 2, 2012, and then shot and killed the 18-year-old who was unarmed in the bathroom, while his elderly grandmother and 6-year-old brother watched in horror.
The protesters also urged that Haste's fellow cops who were present that day lose their jobs as well, and that a more thorough investigation be conducted into the killing.
The deceased teen's mother, Constance Malcolm, led the way and hand-delivered the petition.
"As I'm forced to spend a fifth birthday without my son, none of the officers responsible for his killing, or other misconduct against our family, have been held accountable," she noted. "My son was killed for no reason, by the same people he was always taught to respect."
Her request to meet with de Blasio was denied. However, an official statement was later released to the media.
"The death of Ramarley Graham was a tragedy, and our heart breaks for the family of Mr. Graham," Monica Klein, a de Blasio spokeswoman said. "Now that the federal announcement has been made, NYPD is proceeding with their internal disciplinary process."
Last month, the U.S. Attorney for the Southern District of New York announced that there will not be any federal civil rights charges pursued relating to Graham's killing. So now the family has decided to move forward.
Police Commissioner Bill Bratton said that a departmental trial against Haste will soon begin.
"The federal government has now said they won't do anything, so it's time now for the mayor and the police commissioner to step up," said Councilman Jumaane Williams (D-Brooklyn).
Haste claimed to have seen Graham handling a gun in the street that frigid day and pursued him home. Surveillance video shows the cop frantically racing behind Graham after he entered his home, and then illegally forcing entry into the home without a warrant.
"These officers should have been off the force a long time ago," Malcolm said. "If they can come into your house and murder somebody and walk free, this is telling people that in New York, you are not safe anymore. You are not safe no longer in your home."
Graham's supporters have scheduled 23 additional days of protests. They are demanding accountability for the killer cops, which they believe will reduce police violence against unarmed civilians somewhat.
"We can't have these people on the force," Malcolm. "I asked de Blasio for a meeting, and I still haven't gotten a response from him yet. So let me find out you're not going to do your job, because I figure you're going to be a one-term mayor."