Havana in Harlem
Rep. Charles B. Rangel | 4/22/2016, 5:49 p.m.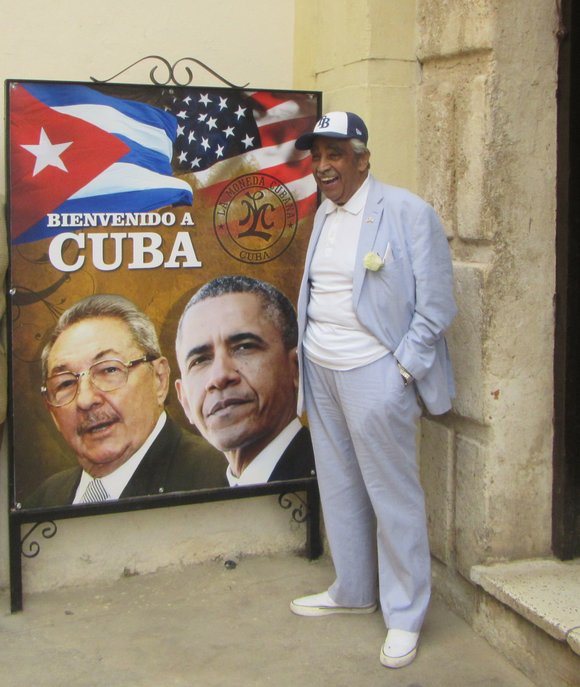 Last month I was deeply honored to join President Barack Obama on his historic trip to Cuba with a small bipartisan delegation. The last U.S. president to lead the way to Cuba before the Cold War was Calvin Coolidge in 1928, two years before I was born. I would have never imagined in 1995, when Fidel Castro visited Harlem, that I would be traveling to Cuba with my president to meet with his brother, President Raul Castro. We reaffirmed our efforts to cement our new ties and push for ending the embargo. I am confident that both of our nations and citizens will benefit through the exchange of people, goods and ideas.
I was fortunate to witness the excitement on the streets of Havana in December 2014, when President Obama first announced his plan to chart a new course in our diplomatic relations with Cuba. As the sponsor of the Promoting American Agricultural and Medical Exports to Cuba Act, I had originally traveled to Havana with a few other congressmembers to explore how the United States could gain access to a miraculous drug that could cure ulcers. Because I had stayed an extra few days, I was able to report through multiple television interviews from Havana to the American audience how Cubans embraced the news of rekindling our ties.
The recent landmark visit by President Obama, which also included American entrepreneurs, has compelled us to take more concrete actions towards removing outdated barriers that are currently limiting opportunities for our country and people. As President Obama acknowledged, it is up to the U.S. Congress to lift the embargo, which was first imposed in October 1960, and enforced mainly through six statutes, including the Trading with the Enemy Act of 1917, the Cuban Democracy Act of 1992, and, most recently, the Trade Sanctions Reform and Export Enhancement Act of 2000. The Cuban embargo is the most enduring trade embargo in modern history, and it shortchanges the American people from pursuing business interests in the island nation. Currently, the United States is the fifth largest exporter to Cuba, yet only 6.6 percent of Cuba's imports are from the United States. The U.S. Chamber of Commerce estimates that the embargo costs our economy $1.2 billion per year in lost sales and exports.
I have long recognized that the embargo is futile. I first introduced my Free Trade with Cuba Act in 1993, and since then have repeatedly introduced bills and pushed for policies that would end the embargo. Through numerous discussions with people, businesses and organizations, it has been abundantly clear to me that economic relaxation affords many American firms the ability to increase their services to the people in Cuba and would create a climate for successful American investments. For example, we know that Cuba imports approximately 80 percent of its food supply, representing a market estimated to exceed $1 billion per year for U.S. agriculture exports. I am optimistic that increased business ventures will be effective in encouraging Cubans to see the advantages of transitioning into a free market society and democratic nation.