A paint class at Harlem's NAMA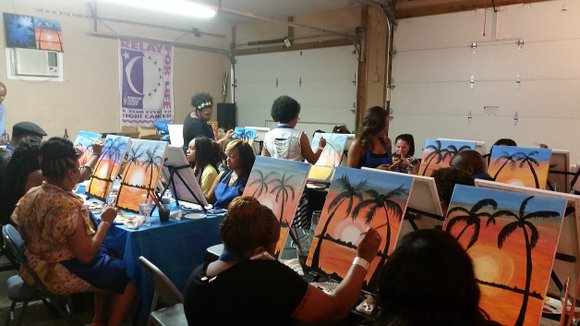 There's nothing better on a quiet Sunday afternoon than taking a paint class to relax. Hope Pianello's Paint Party (recently held at New Amsterdam Musical Association, located at 107 W. 130th St.) offers people of all ages the opportunity to be an artist.
Pianello is a fine artist and the founder and owner of Paint Something LLC. At paint parties all over the country, she teaches you how to paint in an "art party" setting for an affordable fee.
"I've been an artist since before I could remember," said Pianello, who enjoys teaching her classes. She recalled her own lack of self-confidence when she was younger. While growing up in Richmond, Va., she loved to paint on a blank piece of paper and fill it with colorful bits of herself. "All I had to do was claim my gift and accept that I was an artist," she revealed. Her high school art classes were extremely helpful, and she remembered enrolling in all the art classes her schedule could possibly carry, studying everything from printmaking to pottery.
As a college freshman, she wanted to select a major that would pay off in the end. She started with a social work major but switched to English after two months. She planned to land a job as a teacher after graduation, but a year before receiving her bachelor's degree, the light bulb went off. She realized she was meant to be an artist.
Today, Pianello is a successful independent artist. At her paint classes, she works with children of all ages and encourages them to emote artistically on canvas. It's an environment of music, fun, love and encouragement. "My gift has become my profession," she said proudly. She can't say it enough.
Her Sunday afternoon paint class at NAMA added color, joy, peace and happiness to the lives of everyone in the class. Students were absolutely amazed at their results. Pianello's expert instruction was professional and superb. Some folks needed hands-on assistance, and she gave advice with a smile. Everyone in the class received a blank canvas with just a sketch of the picture, and each person added his or her own painting technique. You really couldn't tell that the students were not experienced painters when the project was completed.
To schedule a paint class, just visit Hopepnlo.wix.com/hpnlo.
"Follow your dreams, believe in your abilities. Do not let social stigmas sway your heart," she advised. "You will find that everything you need is already inside of you, just waiting for recognition."