Abu-Jamal supporters defy rain and police harassment to march for his birthday
'LITTLERED | 4/28/2016, 11:15 a.m.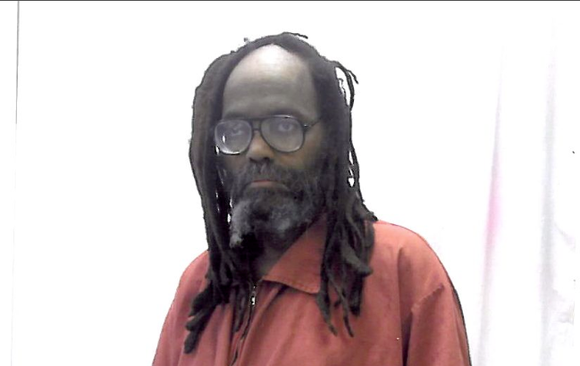 Supporters for Mumia Abu-Jamal were not going to let little things like rain and police harassment stop them from marching for the besieged revolutionary journalist as he fights for his life and endures the ravaging affects of the onset of hepatitis C.
Supporters gathered at the Frances Myers Community Center in West Philadelphia and awaited the passing of a rainstorm as they rallied indoors in anticipation of Abu-Jamal's 62nd birthday. There they were greeted by Abu-Jamal's brother Keith Cook, who reminded everyone of the dangers of having a loved one who is incarcerated and ill.
"When you have someone sick in prison, they can take your loved ones and do whatever they want, and before you know, they can call you and tell you that your loved one is gone," he said, gravely.
"Mumia is very sick and needs all the help he can get," he added.
Ramona Africa discussed Abu-Jamal's plight and the plight of other Pennsylvania prisoners facing hepatitis C. She spoke of political prisoners and the sickening conditions they endure.
"Our brother Mike Africa is one who alerted us to the lead in the water situation at Greaterford where he is at," she explained. "It was so bad that you could smell it in the water whenever they attempted to shower. He organized how to get bottled water in instead of that poison water, until ultimately someone from the feds environmental protection had to step in." Mike Africa is one of the surviving Move 9 political prisoners, who have been imprisoned for 38 years.
Esperanza Martell of ProLibertad in New York shared breaking news on how three former Puerto Rican political prisoners, Juan Segarra, Orlando Gonzalez Claudio and Norberto Cintron, were picked up by the FBI in Puerto Rico and were forced to give DNA samples at a time when protests on the island colony are considerably high.
Poet Zayid Muhammad of the Malcolm X Commemoration Committee said that the incident in Puerto Rico was very reminiscent of what happened to N.Y. Panther Francisco Torres, who faced a similar ordeal several years ago when attempts were made to pin a charge on him from a 1971 incident. Muhammad then reminded the audience that 2016 was the year of the Panther, marking the 50th anniversary of the founding of the Black Panther Party. He conveyed how important it is to support all of the Panther political prisoners, now more than ever, especially in the wake of the recent deaths of Panther political prisoners Abdullah Majid and Mondo Wa Langa and with the imprisonment of Move political prisoners Phil Africa and Merle Africa. He then launched into a rousing new poem for Abu-Jamal called "We Ride."
Shep McDaniels shared how he and Abu-Jamal are the same age and spoke of how he joined the Party when he was 19 and how proud he was that Abu-Jamal joined when he was only 15. He then told all the young people there that it really doesn't matter what age you are.
"You come in with your commitment when you are ready," he advised.
Jericho members Anne Lamb and Paulette Daudill gave information about N.Y. Panthers Jalil Muntaqim and Robert 'Seth' Hayes needing support for upcoming parole hearings.
Lamb described Hayes' "dangerous medical conditions" that he endured over the past year including congestive heart failure and hepatitis C.
Muntaqim and Hayes have been imprisoned for 44 years and have each been denied parole five times.
Suzanne Ross of NYC Free Mumia Coalition introduced two French activists and N.J.-based educator Marylin Zuniga, who are all about to participate in the 10th anniversary of the renaming of a major street after Abu-Jamal in Saint Denis, France.
Then, as participants assembled to march through the community, a police squad stopped the car that Mike Africa's children were in. But when the participants refused to budge until they were left alone, the police ultimately relented and retreated. The participants then marched as they intended down to Malcolm X Park.