Mom of slain teen rallies at Gracie Mansion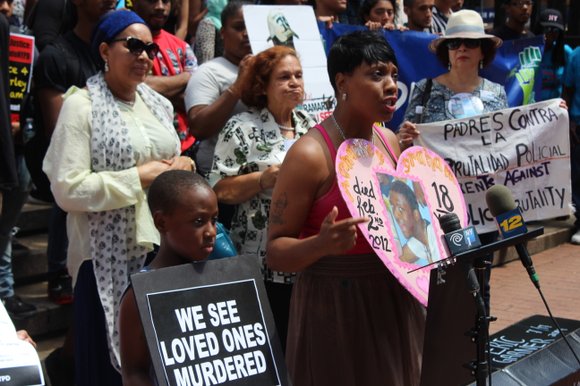 Four years after her unarmed son, Ramarley Graham, was gunned down in his grandmother's bathroom for allegedly having a gun, Constance Malcolm took her fight for justice to Gracie Mansion Sunday, calling on Mayor Bill de Blasio to fire the officers involved in the February 2012 shooting.
The protest and vigil outside de Blasio's official residence come weeks after the U.S. Department of Justice said it will not pursue federal criminal civil rights charges against officer Richard Haste, who fatally shot Graham. The teen's family has been advocating for federal intervention after a Bronx grand jury declined to indict the officer.
"Justice should have been handed on a platter to me, but it wasn't," said Malcolm, as she stood in front of a makeshift coffin with her 18-year-old son's name and the hashtag #FireNYPD written on it. "The local DA has already failed me. The feds failed me. My only option right now is de Blasio firing these officers."
Although most of the attention has been on Haste, Malcolm emphasized that all of the other officers involved in her son's killing should be held accountable.
"Yes, I know Richard Haste because he pulled the trigger!" she exclaimed. "But almost 12 other officers were involved. We still don't know their names or what the charges are. The only thing we hear is that there's an internal investigation. But how long? You all have four years and still no answers."
After the shooting, the NYPD reported that members of its Street Narcotics Enforcement Unit in the Bronx saw Graham adjusting his pants on the street, a sign to them that he was acting suspiciously and had a gun. Officers pursued him to his grandmother's house, where a surveillance video showed the officer kicking the door.
Haste confronted Graham in the bathroom, where he claimed the teen had a weapon on him. Graham was shot in the chest and later died at a Bronx hospital. Police claim that a small amount of marijuana was found, but not a gun.
A Bronx grand jury voted to indict Haste on manslaughter charges, but the indictment was later dismissed because of a prosecutorial mistake. A second grand jury declined to bring charges. Graham's family was hoping that federal civil rights charges would be brought against the officer. But early last month, U.S. Attorney for the Southern District of New York Preet Bharara said there was insufficient evidence to prosecute Haste.
The teen's parents have been trying to meet with the mayor for more than two months now. He has not responded to their request, Malcolm said. Reports said that because the NYPD's disciplinary process is ongoing, it would be inappropriate for the mayor to meet with the family.
Malcolm was flanked by dozens of police-reform activists and City Council members Andy King and Jumaane Williams, who both called on the mayor to intervene and hold the officers accountable.
"Justice has not been served yet," said King, who represents the district where Graham was killed. "We're asking for accountability, we're asking for fairness. Help us, Mr. Mayor. The ball is in your court. We're asking you to make that executive decision."
Referring to de Blasio's expected run for reelection, King added, "If there is no accountability, then there is no accountability next year as well."
Valerie Bell, the mother of Sean Bell, an unarmed black man who was shot and killed in 2006 when three NYPD detectives fired 50 rounds into a car he was driving, was also at the vigil.
Bell said, "At the time, in November 2006, then mayor [Mike] Bloomberg, he said 50 shots was excessive. But did they do anything? No.
"We need de Blasio to make that change. Do something for Constance Malcolm. She didn't get anything from the grand jury, nothing happened at DOJ. Mayor de Blasio you need to do the right thing. Fire these cops. Every time I hear somebody being killed, it brings back memories of my son. I'm just sick and tired being sick and tired. I'm here to stand—to be with Constance [and] be a voice with her."