Prince the prolific musician/singer/composer dies at 57
Ron Scott | 4/28/2016, 10:59 a.m.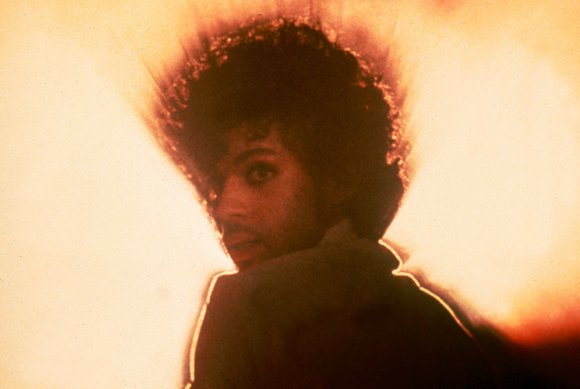 Prince, the prolific artist who elevated the genres of funk, R&B, rock, blues and pop to greater explosive heights while implementing salacious sexual lyrics, love desire and political awareness died April 21, at his Paisley Park estate in Chanhassen, Minn. He was 57.
The results of the autopsy will not be available for several weeks, as noted by Martha Weaver, a spokeswoman from the coroner's office.
Thursday evening, after the all-day news bulletins of Prince's death, his fans around the world gathered at various sites. In Minneapolis, it was his Paisley Park estate and outside First Avenue, a local club made famous by the musician, where they placed flowers.
The Minnesota Twins lit up their stadium with purple screens to honor the iconic musician. In New York City, the Empire State Building sparkled with purple lights and the Apollo Theater paid tribute with heartfelt sentiments on its marquee.
More than 100 people gathered in front of Harlem's world famous theater for two consecutive nights, signing large makeshift cards and dancing to the funk of Prince and his ballads, swimming in love.
"I stopped to dance and feel the spirit of Prince," said Sherlly Pierre, a Prince fan. "He was one of the first people to be himself, and that gave me permission to be myself. He showed me there wasn't only one way to be Black."
Prince sold more than 100 million records worldwide. He won seven Grammy Awards, a Golden Globe Award and an Academy Award. He was inducted into the Rock and Roll Hall of Fame in 2004. Rolling Stone ranked Prince at number 27 on its list of the 100 Greatest Artists of All Time.
Prince had the sex appeal of Jackie Wilson and Billy Eckstine. His dance steps took on the strut of James Brown and the arrogance of "Mr. Dynamite," Wilson, who had a tendency to open his shirt to his navel. Prince just took his shirt off and performed topless.
He performed in briefs with thigh-high boots. The cover for his "LoveSexy" album was a nude photo of the multi-instrumentalist. He introduced us to sex straight-up, no chaser. His use of profanity on some of his singles wasn't disrespectful for most listeners.
It was street talk, the way guys talk on the block, like "Gett Off," "Irresistible Bitch" (I love the way you kiss/I wish I could resist) and "Sexy M.F." A fine lady walks by and somebody is going to say, "Dam! Look at that sexy m.f.!" No disrespect, just fact. Not to mention all the cuts have that serious hardcore (James Brown) funk, and Prince was running it down rap style.
Prince could cross-dress or wear whatever he wanted. His androgynous look didn't matter. Cats in the hood acknowledged he was cool. His songs spoke directly to the people. When he sang ballads such as "Purple Rain," "When Doves Cry" and "I Would Die 4 U," everybody felt the heart strings tugging.
The creative composer took the collective torch from Sly and the Family Stone, James Brown, Marvin Gaye, Jimi Hendrix and Miles Davis and turned it into a Prince thing.