Prince, yeah—sometimes it does purple rain in April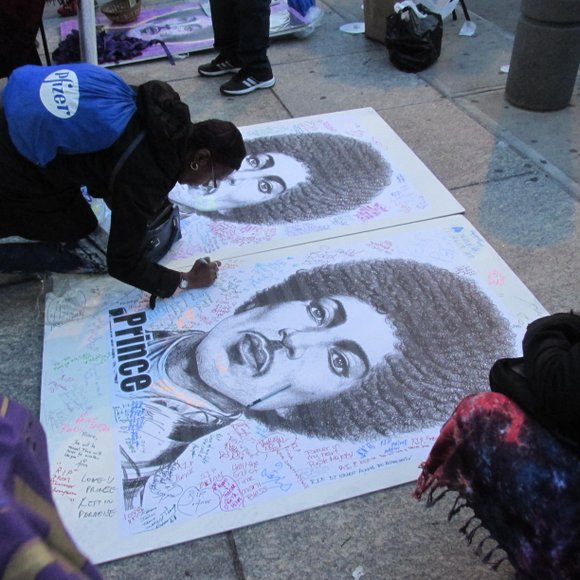 I was first introduced to the dude through Right On! magazine, and of course I was a hater. That's what lil' fellas did back then. We looked through those pages and saw all the dudes that might steal our imaginary girlfriends. Here we saw a new dude. Light-skinned, Afro and he's a singer. Not just a singer though. At 18 years old he was hailed as a wunderkind that wrote, produced and played all of the instruments on his debut album, "For You." Prince was his name. A few months later while out shopping with mom at Alexander's on Third Avenue, I convinced her to part with the $3.99 sale to pick up his self-titled sophomore album. "I Wanna Be Your Lover" was popping enough to make me overlook the album art, which depicted Prince rocking the permed coif on the front and being naked on a white Pegasus on the back. Couldn't front, the music was different, but dope. I was hooked. I became a Prince fan!
Two albums later, he took a star turn with "1999," which was the perfect precursor for the landscape-changing sixth album, "Purple Rain." Twenty-plus million copies sold of a single album is rarified air. For many, that was the entry point to his music, but for his core fans, that was the confirmation as to what was already known. We all know the stats that followed.
Rolling Stone magazine at one point ranked him at number 27 on their 100 Greatest Artists of All Time. Save Michael, Marley, Stevie and Marvin, who else, I'd ask respectfully. Better yet, I'd ask, at least 20 artists are deemed better? Word? An Oscar, seven Grammy Awards, more than 100 million units sold, are indeed esteemed accomplishments, but they don't begin to measure his impact. We'll talk about that at another date and time.
As he told us in song, "Sometimes It Snows in April." True that! Some things happen that are totally unexpected. In the span of a week, Prince Rogers Nelson has passed and was cremated. He's really gone. Pretty soon the music and tributes are going to wane and we'll need to accept that fact. Let's not do his memory the disservice of thinking his songs are his only legacy. The genius of Prince extended far beyond musicianship and lyricism committed to tape, vinyl and digital recordings. When he spoke, which was rare, you could hear the passion, intellect and love that he had for his craft. Music as a transformative and healing agent was the paramount sentiment; commerce, while important, was not primary. The following quotes speak to things that helped shape his view on his art and what it did for him. Sharing these with hopes that they add to your thoughts of the man.

"I am here today because of the golden ages of the '60s, '70s and '80s of music. This is when artists played their music, they wrote their own songs and performed next to people like Ike and Tina Turner, Wilson Pickett and James Brown. You had to have your act together."