Talking SCHOP! Shanghai 46: a Fairfield find
Kysha Harris - AmNews Food Editor, @SCHOPgirl | 4/28/2016, midnight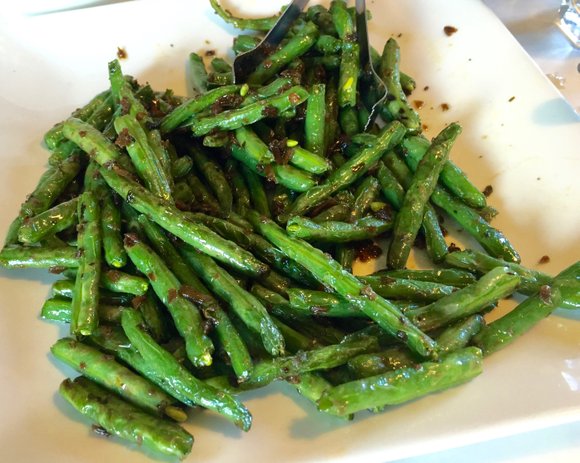 The arrival of the weekend mostly brings an opportunity to recharge, refuel and reconnect with family and friends. Images of leisurely walks, long conversations and endless time come to mind. However, for most New Yorkers the weekend is the time for errands, activities and general running around to catch up with their lives.
This weekend hang with my friend Jason came with a car ride out to New Jersey to pick up a completed home improvement project. He was giddy with excitement, but a gloomy day drive in Saturday traffic to a lumber shop was not hot in the streets to me. Alas, we were hanging and listening to Prince (may he rest in purple peace) for the entire trip.
As Jason was loading the car, I was trolling my smart phone for nearby places to eat, as I tend to do. A good Jersey sammy was talking to me, but then, not too far away (around the corner), is a place billed as "authentic Shanghai cuisine," Saturday is when dim sum is served. So why not in Fairfield, N.J.?
We walked into Shanghai 46 (14 U.S. Highway 46 E., 973-808-5888, www.shanghai46NJ.com) to awesome smells and a room filled with Asian-Americans enjoying amazing looking food. This place would be no slouch!
We nestled into a booth and attacked the menu to find just enough to satisfy—on this visit that is. We ordered xiaolongbao (Soup dumplings. Get at 'em if you've never tried 'em!), Shanghai-style hot spicy noodles with pork and the simple, but way good, dry sautéed string beans. Everything was excellent. It was the right amount of food that packed a complex and flavorful punch.
Take my word. Those string beans need to be on your dinner table! They are simple and delicious and any picky eater would take a break from his or her choosy ways to down a plate of them. The recipe:
1 lb green beans, haricots verts or Chinese long beans
1 tablespoon garlic, minced
1 tablespoon ginger, finely diced
2 scallions (spring onions, green onions), white parts only, finely chopped
1/2 teaspoon chili paste
1 tablespoon dark soy sauce
1/2 teaspoon sugar
1/4 teaspoon salt, or to taste
Pepper to taste, optional
2 tablespoons peanut or vegetable oil, or as needed
Wash the green beans, drain thoroughly and trim the tops and bottoms. Cut the green beans on the diagonal into slices approximately 2 inches long.
In a wok or large pan, heat 1 tablespoon oil over medium heat. Add the green beans and stir-fry (SCHOP! Tip: stir-frying requires constant movement) until they start to shrivel or "pucker" and turn brown (varies depending on bean so pay attention, but 6 to 7 minutes for long beans). Remove the green beans from the wok and drain in a colander.
In the same wok/pan, heat 1 tablespoon oil over high heat. Add the garlic, ginger and scallions. Stir-fry for a few seconds, and then add the chili paste and stir-fry for a few more seconds until aromatic. Now, add the green beans back to the wok/pan plus the dark soy sauce, sugar, salt and pepper if using. Stir everything together until the beans are coated, taste and adjust the seasoning as needed. Serve immediately!
Happy eating (and cooking) and thanks for reading!
Kysha Harris is a food writer, culinary producer, consultant and owner of SCHOP!, a personalized food service offering weekly and in-home entertaining packages. Questions? Comments? Requests? Feedback? Invitations! Email her at kysha@iSCHOP.com, follow her on Twitter and Instagram @SCHOPgirl or on Facebook www.facebook.com/SCHOPnyc. For even more recipes, tips and food musings, subscribe to her blog at www.talkingSCHOP.wordpress.com. Follow AmNewsFOOD @NYAmNewsFOOD