Cyro Baptista, William Parker, Axel in Brooklyn
Ron Scott | 8/4/2016, 1:59 p.m.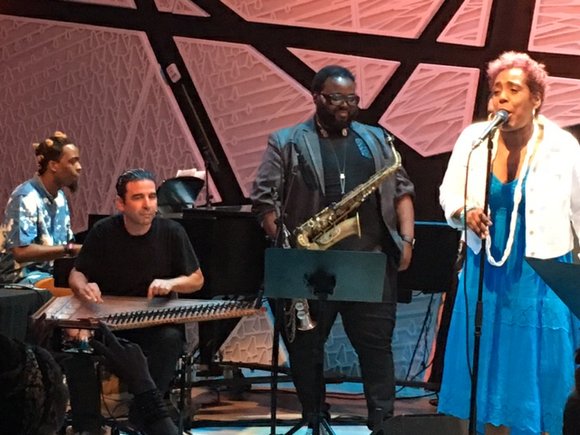 Established jazz clubs such as Dizzy's very seldom venture past the traditional gates of jazz. However, last week Dizzy's took an adventurous leap by presenting the ever inventive Brazilian percussionist, Cyro Baptista, who for his two-night engagement led two bands, Vira Loucos (the title of his first album as a leader) and Banquet of the Spirits (another album title).
This performance was Baptista's debut at Dizzy's, and both nights were sold out. He plays world music, which is misunderstood my many. Simply, it is a colorful mosaic of the world's music. Baptista's collage is bright and imaginative, covering the gamut from Brazilian rhythms to a Spanish polka and jazz trances.
He is one of the most exciting percussionists in music, never boring, always on the edge. He creates many of the percussive instruments he plays, so it's not just his music, but the surprise inventive instruments he has created since his last outing.
The group played a jazz infected Don Cherry (the trumpeter known for his world fusion and jazz interpretations) tune. You can feel the jazz connection in his music, but the ensemble's accordion introduces a totally different sound and concept to the music. Some patrons were inspired to dance on Baptista's "Ode to Obama." "I like Obama and unfortunately he will be leaving soon, so this is for him," said Baptista.
Because he couldn't stop smoking, he wrote a song to inspire him entitled, "Stop smoking so I can kiss you with my ashtray mouth." He laughs and says, "I just want to have fun."
Baptista is a very busy percussionist on stage, making interesting sounds or quickly holding down a rhythmic beat on his congas or tambourine. It is almost similar to a small carnival performance but much more swinging. His band of like minds included pianist Brian Marsella, bassist Shanir Blumenkranz, guitarist John Lee, accordionist Felipe Hostins and drummer Gil Oliveira.

After Baptista's engagement, the innovative bassist, composer and poet William Parker made his debut two-night stint at Dizzy's, also selling out his two nights. Why hasn't such an accomplished bassist made this scene before is tied to the fundamental tradition that keeps such musicians out of the mainstream traffic of uptown standard jazz clubs.
Oddly enough both of these gentlemen have earned international reputations on the jazz scene, with a committed cult following in this eclectic city, which speaks to why their engagements were sold out.



Parker, along with his competent non-conformist ensemble, Cosmic Mountain Octet, and the second night, with the In Order to Survive-Extended Breath Ensemble, demonstrated that classifications are made to be shattered.

The "Middle Section of #7: A Survival Tune" had that big-band blast. At moments you didn't know if you were in a holy roller church or an old ring-house prayer meeting. The renowned Kidd Jordan's tenor saxophone was on a rampage through blues measures. "Morning in East Harlem" encompassed a piano romp and harmonic horns following a trombone lead. "We have multiple ways to heal you with our music," noted Parker.