Jerry Reese and Ben McAdoo raise the Giants' bar
Jaime C. Harris | 8/4/2016, 11:53 a.m.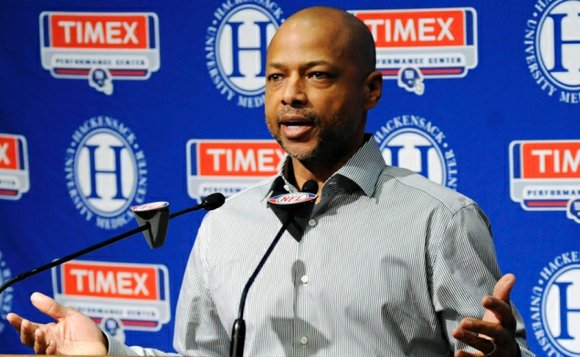 Super Bowl 51, scheduled for Feb. 5, 2017, at NRG Stadium in Houston, is still six months away. But the Giants' leadership, notably Senior Vice President and General Manager Jerry Reese, and first-year Head Coach Ben McAdoo, have already raised the team's bar during the opening week of training camp.
McAdoo boldly expressed that the Giants' definitive objective is to be the NFL champion after the sport's conclusive game next winter. Such aspirations are common among all coaches, but for a rookie head coach who is taking over a team that hasn't even been to the playoffs for the past three seasons, including two consecutive 6-10 outcomes, his aspirations may be construed as excessive.
"Our goal is still to put the fifth trophy in the case," the 39-year-old McAdoo said on the first day of the Giants' training camp. "Those are just words right now. It's time for us to go out there and put the work in and earn it. Absolutely it puts crystal clear high expectations on the team and that's what we want. That's what we're here for."
The Giants indeed endeavor to add another Vince Lombardi Trophy, which is awarded to the Super Bowl winner, to the four the franchise already possesses. Reese has presided over the Giants' last two titles but has been the subject of intense criticism as the team has fallen into the lower tier of the league since winning Super Bowl XLVI in 2012, stumbling to a record of 19-29.
Their failures led to former Head Coach Tom Coughlin becoming a casualty, reluctantly resigning last January after 12 seasons and two Super Bowl victories. Conversely, the 53-year-old Reese has survived the storm and remains in his role as chief architect for at least this upcoming season, supporting McAdoo's assertion that the Giants should be open about returning to football's mountaintop.
"I think people have been giving Ben a little grief for the whole Super Bowl talk, but that is everybody's goal," said Reese in his inaugural training camp address to the media.
"What do you want the coach to say?" he asked. "We don't want to win the Super Bowl? We do want to win, but we know what it takes. It starts one practice at a time, one game at a time, one play at a time and you ramp up to that, but we are very optimistic about our football team.
"We think we have upgraded, we like our coaching staff, we like the direction that Ben is taking us right now and we are excited about it."
Reese has no doubt improved the Giants' roster, particularly the defense, one of the statistically poorest in the NFL last season. They don't have to win the Super Bowl or even make it there for their season to be considered a success. Finishing first in the NFC East, thus ending a tumultuous playoff drought, would be significant progress.