Millions March NYC occupies City Hall Park
Simone Johnson | 8/4/2016, 12:26 a.m.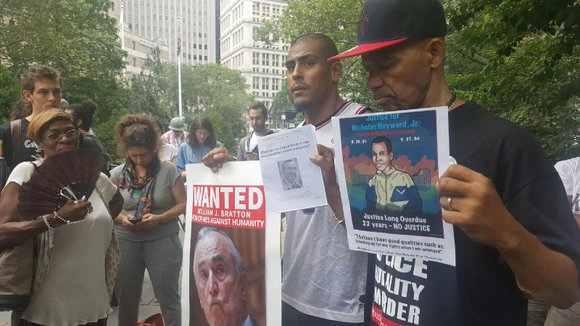 Special to the AmNews
On Aug. 1, just one day before NYPD Commissioner Bill Bratton announced his surprise resignation, the Millions March NYC organization came out to occupy City Hall Park. They had three demands: Bratton must resign, reparations must be paid to the Black and brown community out of the NYPD budget and the NYPD must be defunded and demilitarized. The next day the commissioner had resigned and James O'Neil was granted the position.
One demand was met, but activist Vienna Rye explained that the journey is far from over. There is still an incredible amount of work left to be done, such as putting an end to mass incarceration.
"Locking people up has become a major part of capitalism. At this point it's a genocide of people across the world. We demand the immediate abolition of policing and the entire apparatus that they feed into and enforce," said Rye. She continued, "We don't work with the state. The state will never hold itself accountable. So the state is here and it's been here for 400 years and it's been the same thing. Clearly it's not helping because people are dying everyday."
However, Millions March NYC were not the only ones present fighting for these demands. NAACP Leader of Defense Lumumba Akinwole-Bandele, father and activist Nicholas Heyward Sr. and Assemblyman Charles Barron were also there to fight the good fight.
"I came by to show support to the many different issues happening around the city—the police department continuously terrorizes people within our community," said Akinwole-Bandele. He continued, "I think we're in a very important time when communities from all over are coming together and saying no more, enough." When asked about Bratton, he said, "Bratton, leave now. His sanctions to murder have murdered so many of our community members unapologetically. Leave now."
Heyward shared a similar attitude towards Bratton. In 1994, his son Nicholas Heyward Jr. was murdered by an NYC housing cop at the age of 13 for playing cops and robbers. Till this day Heyward Sr. is still seeking justice for his child.
"There is no way [that] back then I would have had envisioned that this guy would've still been the police commissioner because from 1994-1996 there were far too many lives that were killed under William Bratton, and since he's been in office it's just been a repeat of far more than what it was back then. William Bratton needs to be fired immediately. Bratton had no business being elected into a second term. Everyone knows his record. This guy right here to me is a criminal! The Broken Windows policy targets poor Black minority communities, not only in NYC but nationally. This is why we have so many innocent unarmed Black people getting murdered nationwide. This man here is the reason behind it. Police Commissioner William Bratton must go. I've been saying this for years."
Millions March NYC expressed their determination to occupy City Hall Park until their demands were met or police pushed them out. Copwatch activist Jose Lasalle commented, "We are trying to make a statement that we want police brutality to end, broken windows—we want Bratton to be out now. We don't know what's gonna happen, but with what happened with Occupy Wall Street and Zuccotti park, people started occupying around the world and it did escalate to something big. It became something that we will never forget. We're hoping that we can send that kind of message."