Police Commissioner resigning in September
Bye Bye Bratton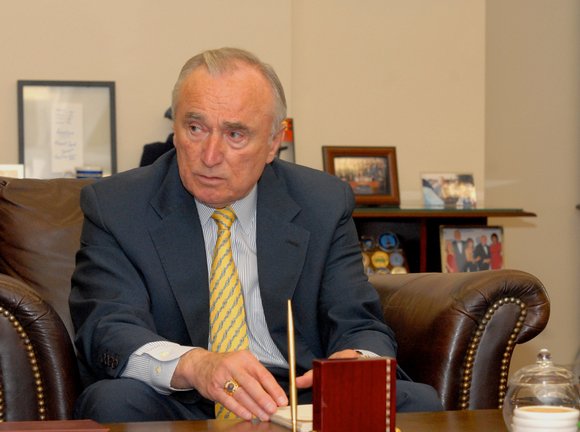 Amsterdam News Editor
"Ding dong the warlock is gone!" declared an elated Assemblyman Charles Barron, upon hearing that the somewhat controversial police commissioner had just announced that he as going to be retiring next month. "Police Commissioner William Bratton should not have been hired in the first place."
Barron predicted, "Mayor Bill de Blasio is next." However, he added, "But, we don't just need a personnel change, we need a policy change."
It started off like an ordinary Tuesday (Aug. 2, 2016)—except that dozens of off-duty police officers were camped outside embattled Mayor de Blasio's Gracie Mansion home, and then followed him to his Park Slope gym. Not to mention that the day before, hundreds of protestors spent the day attempting to "Shut down City Hall," as dozens of speakers demanded several things, including the "abolition of the police department," the resignation of Bratton, the ending of police brutality and the beginning of police accountability and presenting a host of other civilian grievances. The phrase "one-term mayor" was banded about by both police and protestors within the 24-hour period of demonstrations.
Then, news began to filter out that Bratton had told de Blasio Monday night that he was jumping ship by Sept. 1, supposedly to make a life change and pursue a lucrative security consultancy off er that he simply could not refuse.
Activists across the city did not hide their glee. While de Blasio, Bratton, new Police Commissioner-select James O'Neill, First Deputy Commissioner Benjamin Tucker, and new Chief of Department Carlos Gomez chuckled merrily at the hastily arranged press conference at City Hall, their mutual admiration society quips and anecdotes only bolstered the rapid response of a host of New York City grassroots activists who touted the resignation as a victory for the movement to remove Bratton.
"We have found the perfect person to succeed him in Chief Jimmy O'Neill," declared a smiling de Blasio.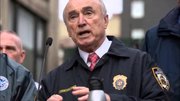 Becoming emotional as he thanked his mother and sister, O'Neill stated, "It's about all of us, and today in New York City we're at record lows in terms of homicides and shootings, and by year's end, we'll have a great chance at logging the fewest indexed crimes ever recorded in a single year. That's truly historic ... But that doesn't mean we stop. We never stop trying to drive down crime and quell disorder, and we're going to do it in lock step with the people we're dedicated to protect. It is, after all, what we do now."
The mayor praised O'Neill for his "neighborhood policing" initiative. "People of this city have never experienced true neighborhood policing," de Blasio said. "It has never happened on a sustained basis. Jimmy O'Neill and this team are the people who will bring us neighborhood policing for the first time, borrowing from the past when the officers really knew the members of the community, knew the parents, knew the kids, but with a lot of other features—training officers in how to de-escalate conflict, working on how to work together across all the background that make up this city."
A week ago Bratton, said that he would be leaving before the end of 2017. Reporters wanted to know what happened to expedite his departure. The mayor said, "July 8 was the day the commissioner let me know, and we had a heart-to-heart—a very personal discussion about life and family."
Bratton said, "There's never a good time, but there's a right time. For me this is both a good time for all that we have accomplished, and it's the right time for me personally, my wife and I."
"So the ongoing police probe, the protest, none of that has anything to do with this?" asked one probing journalist.
Mayor de Blasio replied, "No, 110 percent has nothing to do with this. Everyone has known, because the commissioner has been very open about it, that he had a vision for his time here. But give or take, it was the first term."
Bratton added, "On July 8, you may recall we had done the six months summary of how the six months had gone … I informed [the mayor] that I would be leaving, that I would be retiring in mid-September to pursue other opportunities. After I picked him up off the floor and brought him on my couch, we had a two-hour conversation and talked about where I was going and why, talked about transition and the need to do exactly as we've done here, to move it forward very quickly ... So, there's no reason I am leaving at this time and leaving with reluctance. I wish I had more time chronologically to stay around for three or four years to work on the issues that are going to take that long to straighten out. I don't have that type of time. And again as the mayor had indicated that I've received an offer that for me and my wife is extraordinarily exciting and one that I think that we can look forward to."
At Monday's rally at City Hall, activist Jomar Trujillo was among the most vocal in demanding that "Super Cop of America" Bratton must go, speaking against de Blasio's 2013 choice to bring back Bratton in the first place and "predictive policing, which will use computer algorithms to predict crime."
"You can't reform the unreformable," Trujillo told a receptive crowd. A day later, with the Bratton resignation news, Trujillo and his NYers Against Bratton told the AmNews, "Bratton is done. In the midst of the largest police corruption scandal since the 1970s, Bill Bratton is resigning, ending a two and half year long reign as the most powerful person in New York City. In less than three years, Bratton brought the NYPD more cops, more money, more guns, more discretion, immensely advanced surveillance capabilities, predictive policing algorithms and reduced transparency. He laid waste to any legislative attempts to limit police power and authority and twirled our empty-suit liberal mayor around his finger. He has also spent nearly three years laying the foundation for 'predictive policing,' which our children will be fighting against in years to come. 

"His resignation is important but doesn't bring back the people who have died by police hands under his watch: Eric Garner, Akai Gurley, Nicholas Heyward Jr., Anthony Baez, Anthony Rosario, and the list goes on. It is still, however, in important symbolic step for protesters. This moment would not have occurred without the continuous pressure of grassroots groups demanding his departure since 2013. We have fought not only Bratton but the fake oversight of the CCRB and elected officials who as Bratton himself has said, gave him 'everything he ever asked for.'"
"Bill Bratton surrendered to a law of nature: Evolve or perish," said retired detective Marq Claxton, director of Black Law Enforcement Alliance. "He came to the understanding, pushed by an active and vocal reform movement, that his time had come and gone. The once-heralded and respected innovator understood clearly that his COMPSTAT-based, overly aggressive policing model, which included broken windows enforcement, had become obsolete. This once-internationally acclaimed policing model is the very structure that human and civil rights activists have demanded to be reformed. The handwriting is on the wall and it appears that Commissioner Bratton could not pivot, and instead chose to dance away. His successor had better be prepared to commit to community policing, or he will hit the wall as well."
The Black Youth Project 100 NYC told the AmNews, "Bill Bratton's resignation is welcomed progress, but improving the NYPD's negative impact on Black communities does not revolve around a single figurehead. Bratton's resignation is years in the making. Just yesterday we lent our support to Millions March and NYC Shut It Down and the many organizations who occupied the steps of City Hall to demand the firing of Bill Bratton. Decades of organizing and the recent surge of increased pressure from young Black New Yorkers like us has finally worn him out. The fact that he was forced to resign shows that when young Black people fight for change, we can win."
The group of young people stated that Bratton also leaves behind an "immoral and racist system of policing."
They added, "As he sails off into retirement or perhaps parachutes his broken windows policing into another city or country, he leaves behind a police force that disproportionately targets poor and working-class Black New Yorkers ... Bratton is also just one piece of a system that is not broken, but operates just as its makers intended. We know that a shift in leadership does not automatically lead to a shift in the violence, murder, repression, surveillance, harassment and sexual assault Black people experience at the hands of the NYPD."
Lifted by what they see as the fruits of grassroots labor. the youth project group noted that they "are energized to have the opportunity to hold the next commissioner, James O'Neill, accountable to the community. They declared, "We will continue to demand a defunding of the police and a move to #FundBlackFutures. We will continue to demand an end to broken windows policing and the immediate passage of the Right to Know Act. To commissioner O'Neil we say, 'Black people also want to live good lives and take care of their families.' That desire has not changed. But the way to meet those needs is not through Community Policing. Our communities have been occupied by a violent, racist and destructive police force and we encourage you and your ever evolving NYPD to recognize that true progress can be met by investing in the physical and social infrastructure that provides for the all encompassing needs of families."
The group concluded, "From the policing of disorderly conduct to the harassment of trans and gender nonconforming Black New Yorkers; from NYCHA's permanent exclusion policy, to the racist and disruptive raids on NYCHA housing, the NYPD has a well documented history of occupying and harming Black communities and we will continue to hold them accountable no matter who is commissioner."
Trujillo and his group added, "While we have no delusions that James O'Neill will shepherd in an NYPD that is not racist, brutal and corrupt, the power Bratton was granted to eviscerate the democratic process in New York and across the country was unparalleled. We will be 'New Yorkers Against O'Neill, New Yorkers Against De Blasio, New Yorkers Against Viverito,' and so on. And while it is important Bratton never be handed the keys to another city again (his work in the private sector is something we will keep a watch for), we must fight to ensure that his broken windows legacy is viewed truthfully as one of disgrace and intense racism. Next steps: end broken windows, justice for victims of police brutality, divest from the NYPD's $5 billion budget."
On O'Neill's appointment the Rev. Al Sharpton said,"My relationship with O'Neill depends on the policies he proposes and enforces. Again, we are willing to work with police for equal protection under the law."
Stating how dire police-community relations have been, especially in the wake of the police killings of Eric Garner and Ramarley Graham, Sharpton noted, "Until you start perp walking cops, the violence will not stop. You perp walk people that commit a crime."