Are all marijuana arrests created equal?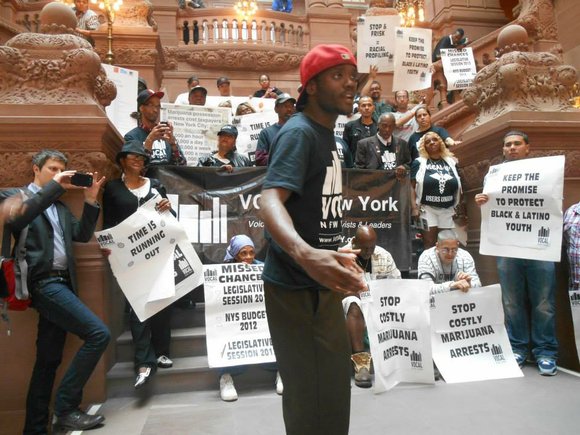 A recent analysis of statistics from the New York State Division of Criminal Justice Services by police reform advocacy group found that marijuana arrests rose in the first six months of 2016 compared with the same period last year.
Analysis by the Police Reform Organizing Project concluded that Marijuana possession arrests rose almost 30 percent, 9,331 for the first six months of 2016 compared with 7,236 for the same period in 2015. Although New York City Mayor Bill de Blasio and outgoing Police Commissioner Bill Bratton have discussed wanting to lower the numbers of marijuana-related arrests, PROP said that 90 percent of the NYPD's marijuana possession arrests involved New Yorkers of color and that 86.5 percent of misdemeanor arrests in 2016 involved people of color, compared with 86.4 percent in the first six months of 2015.
PROP director Robert Gangi said in a statement, "While virtually all the arrest numbers demonstrate that NYPD arrest practices are marked by waste and racial bias, the statistics that stand out for us involve arrests for misdemeanor marijuana offenses. While Mayor de Blasio, NYPD Commissioner Bratton, and other city officials have made widely publicized pronouncements about reducing punitive sanctions for marijuana infractions, the data present a different story. Arrests for marijuana are substantially on the rise—by nearly 30 percent for the first six months of this year."
PROP's report didn't sit well with the New York Police Department, which was clear in the NYPD's response to the AmNews requests for comment.
"The New York City Police Department enforces marijuana laws through observation, in response to 911 calls and community complaints," said an NYPD spokesperson in an email to the AmNews. "Robert Ganji's predictable and repeated attempts to malign the department lack any factual basis. We fight crime where we find it. Any other characterization is Gangji's failed attempt to garner headlines and gin-up fear. We will continue fighting crime—and we are proud of our record making this the safest big city in America."
City Hall went the same route when they responded to AmNews requests. When asked about the rise in marijuana-related arrests compared with a year ago, the administration went back to 2014.
"Marijuana arrests are down 40 percent since the 2014 reforms the NYPD put in place," read the statement sent to the AmNews. "During this downward trend the city experienced a period in the beginning of 2015 that included an even more extreme dip in all arrests. Whether it's this marijuana arrest policy, the addition of body cameras or the launch of neighborhood policing, the reforms made by this administration are strengthening the relationship between police and community while keeping New York the safest big city in America."
Through May 31 in 2014, there were 12,172 marijuana arrests. Through the same date in 2015, the number dipped to 5,539. This year, it's 7,257.
But since police officers were advised to issue summonses instead of arrests, summonses went up between 2013 and 2015 while arrests went down. But according to some people, Black and Latino New Yorkers are still unfairly targeted through these summonses.