Ashley Toussaint running for the future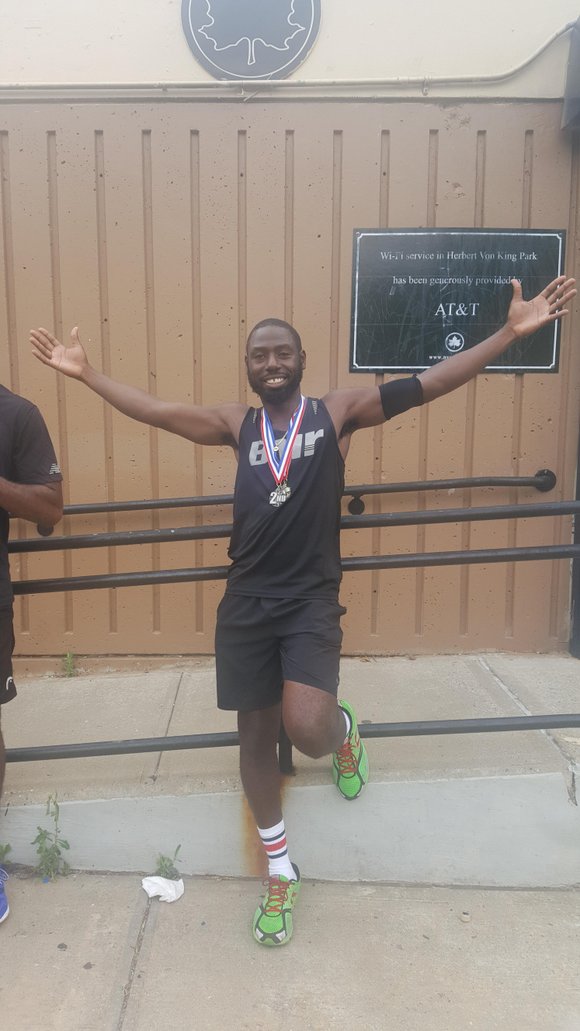 From institutionalized racism, to the spoils of white privilege, to the benefits of running miles in intense heat through hardened concrete inner-city streets, everyone has an opinion. If you want to read young Haitian-American Ashley Toussaint's "My Two Cents," log onto his popular blog Brothertoussaint.wordpress.com. Then again, you might just want to sweat off the day and let him show you how running can be a healthy addition to your life.
Saturday, Aug. 6, 2016, the Brooklyn community organization, 500 Men Making a Difference, held their seventh annual Mens Day in Bedford-Stuyvesant. This nonprofit organization was founded by Wayne Devonish. This year was their first year hosting a 5K run, and running enthusiast Ashely Toussaint won second place. Originally from Miami, Toussaint told the Amsterdam News that he was always inspired by Brooklyn's urban communities after he saw the Spike Lee film, "Do the Right Thing." He said he felt that he could relate to communities in Brooklyn, and it would like a "second home" to him. At the age of 28, he had already completed his bachelor's in social studies education at Wayne State College in Nebraska and master's in educational leadership from Nova Southeastern University.
"After learning about Black history, I stayed intrigued and wanted to be able to teach younger generations about how our ancestors created a better life for us today," he said.
He taught social studies in Florida and received several awards for his work, but he felt that he wasn't being pushed enough. "I thought that education in New York was more advanced then Florida, so I decided that moving to New York would be a good idea," he explained. Currently, he is teaching global studies at the New Design High School and coaching students in football and track.
"I have being playing football all my life.," he said. "I actually attended Wayne State College in Nebraska on a football scholarship. I also run track and hurdle."
Along with being a coach and a high school teacher, he volunteers with several organizations and blogs on his spare time. "My Two Cents" is a weekly blog where he writes about education, politics and global current events. "I named my blog 'My Two Cents' because it relates to my last name, Toussaint," he explained. In college, he wrote weekly columns for the school newspaper. He admits that he did take a brief break for a while, but now he is back on track, and he currently writes weekly.
Toussaint is a part of the Brooklyn-based nonprofit Community2Community organization. This organization is trying to rehabilitate Haiti so that the island nation eventually becomes self-determining and self-sufficient, after the devastating 2010 earthquake that killed thousands of people and left hundreds of thousands hungry and homeless. For months the homeless remained in camps, causing many people to be exposed to diseases and contaminated water. C2C wants to make a difference and help those who need it. "As a proud Haitian, I am glad that I can be apart of an organization that is beneficial to my country," said Toussaint.
The young Brooklynite is also a part of the Black Men Run NYC, which is one of the chapters of Black Men Run Inc. This health organization was founded in Atlanta in 2009 and promotes a healthy lifestyle for African-Americans. According to statistics, Black men are in a higher percentile of having the shortest lives in America. Regardless of whether they are dying because of violence or illness, Black men's lives are in jeopardy, Toussaint believes. This organization has chapters throughout 40 cities in the United States. The New York City chapter meets twice a week and participates in recreational activities. "I believe that we should all join organizations like these because we all need to be in a good physical state," Toussaint said.
"If I had to choose between being a social studies teacher or being a coach, I would choose being a coach" he told AmNews. "Although I am intrigued by history, I enjoy being active and seeing other people feel better about themselves."
For more information, visit Blkmenrun.com, Community2community.info, Brothertoussaint.wordpress.com or 500menmakingadifference.com.