Dr. Sebi dies in custody of Honduran jailers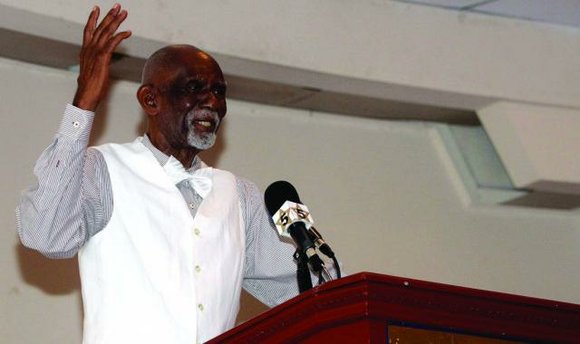 After a couple of years of this ad running, New York Attorney General Robert Abrams had Dr. Sebi arrested, charged and reportedly determined that he would "put Dr. Sebi under the jail!"
Dr. Sebi was charged as follows: "Mr. Alfred Bowman aka Dr. Sebi, you are hereby charged with practicing medicine without a license, selling products not approved by the FDA (Federal Drug Administration) and claiming to cure Aids, and other diseases, which is a fraudulent claim."
Although Dr. was told to bring one cured person to prove each of his claims, he presented approximately 70 people to the court. The case went through the usual legal machinations, but ultimately Dr. Sebi was found not guilty of all charges by a jury.
It is this history, plus Dr. Sebi's decades of servicing hundreds if not thousands of people all over the world, that is leading people to question the nature of his death.
Confusion reigned initially. Social media and traditional communication was heavy with questions as to the validity of the news as it broke Saturday evening.
This weekend, the USHA Research Institute, Dr. Sebi LLC, and the Usha Healing Village located in Laceiba, Honduras, said, "He became sick with pneumonia while being held in prison. His condition escalated quickly and he was transferred to a nearby hospital. We are unsure about what type of treatment he received over the course of the last few days, both before and after being submitted to the hospital."
Sources close to his own organizations stated that on May 28 Dr. Sebi and an associate, Pablo Medina Gamboa, were detained at Juan Manuel Galvez de Roatán Airport on Roatán, an island off the coast of Honduras. In possession reportedly of $20,000 and $30,000, they were arrested and charged with money laundering. They were released and given a June 3, 2016 court date.
On that date the Public Ministerio detained Dr. Sebi. He became ill incarcerated, supposedly with pneumonia-like symptoms, and reports state that he died on the way to the Vicente D'antoni Hospital.
Nadra Rae owner and operator of Holistic Heights said, "Dr. Sebi taught me the value of the African Bio Mineral Balance … I would like to personally send my love and condolences to his loved ones. I know that we all go through ups and downs with family members, but what you ALL have done for the world surpasses all of that. I have been EXTREMELY BLESSED to have been in the presence of greatness that will go down in history and I am eternally grateful for ALL of you helping me to heal my son."
Dave Thomas III stated on Facebook, "This is why such a wonderful soul as the Dr. Sebi was MURDERED. He planned to take his healing to the world. The big pharmas would NOT ever let that happen."
"Dr. Sebi brought us natural healing through water, herbs and exercise, that remains a threat to the monopolies of the capitalistic health-care system, pharmaceuticals and insurance companies," said Assemblyman Charles Barron. "He would cut into their greedy profits. We must always stay vigilant and question everything."
"I knew Dr. Sebi for 40 years, and he was a man who was the same last week as he was four decades ago," Professor James Small told the Amsterdam News. "He was a great traditional healer with unwavering political integrity. He was one of the greatest examples of a dedicated hero, who has been amongst us—he was a temple, a university of medicine—and a library of the herbal healing sciences. He has done great work and the ancestors will receive him well. I accept that he has passed on to the ancestral realm, and he deserves the right to to be looked upon as a revered ancestor."