King Sunny Ade, Wunmi to host big Brooklyn show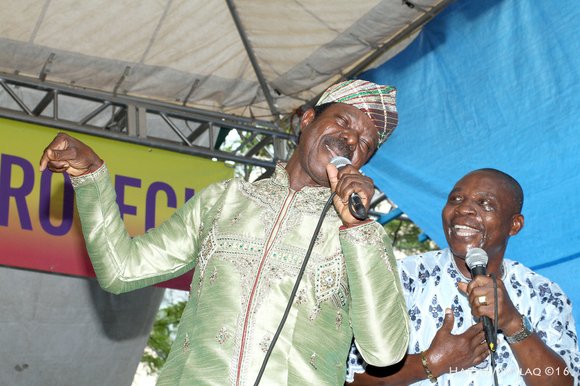 Celebrating 50 years on stage and his 70 years of age, the legendary King Sunny Ade and his African Beats band will be performing a major show in Fort Greene, Brooklyn Friday, Aug. 19, 2016.
"It's going to be a wonderful, wonderful celebration," assured Kunle Ade of Kampinc Entertainment. The son of the Nigerian musical icon—singer, composer and multi-instrumentalist—who recently impressed audiences at Summerstage and Metrotech, said the showmanship of his pops ". . . is why I want people to come out to the show."
He added, "Because even people who have seen him from years ago do not realize that you will still get a full King Sunny Ade show. He is a different level of energy. He is full of that African juice that I pray that I have when I get older. The man is amazing!"
King Sunny Ade is a beloved Nigerian musician and is indeed as his people say, "undisputedly the most popular artist in Nigeria and highly acclaimed as a world artist, appealing to music lovers across Africa and around the world."
Davido, Wizkid and Tiwa Savage may be running things now, but King Sunny Ade began reigning in the era of the likes of Fela Kuti, Victor Uwaifo, Ebenenzeer Obey, Prince Nico Mbarga and Rocafil Jazz.
"Those artists,including [King Sunny Ade], they paid their dues in this world," said Kunle Ade. "They really read the script and went through with it. There were no shortcuts. [My dad] always told me, 'If you are loyal to music, music will never disappoint you, music will always work for you.' So for them—they really love what they do. They are really doing it. There's no digital work, no computers, they are really musicians who perform and give you a show."
King Sunny Ade has been performing to sold-out audiences around the world for more than 50 years. It is only right that King Sunny Ade and his full band the twins, his dancers, will close their historic 30-city North American tour in Brooklyn. "For them the connection with the crowd is really important for them," said Kule Ade.
This milestone event will also feature internationally celebrated recording artist Wunmi, and the very energizing DJ Tunez.
Kunle Ade is a part of the hugely popular Brooklyn-based Moshood Creations clothing store, a favorite among international pop stars, activists, artists and regular people alike.
While Moshood celebrates 22 years of bringing fashion from Nigeria to Brooklyn, Kunle Ade stated words that work both for the store and his dad, "Consistency is the key … we stay true to what we know and how we should project how we want to look."
The King Sunny Ade Special 70th Birthday Celebration Concert takes place at the Brooklyn Masonic Temple, 317 Clermont Ave. at Lafayette Street, Fort Greene, Brooklyn. Doors open at 8 p.m.
For more information, contact Kampinc Entertainment, 646-403-7445; Moshood Creations, 718-243-9433; Amarachi Restaurant, 718-222-1010; kampincmusic@gmail.com; or http://tinyurl.com/ksaawi2016