New York Amsterdam News Endorsements for 2016 State Primaries
EDITORIAL | 8/25/2016, midnight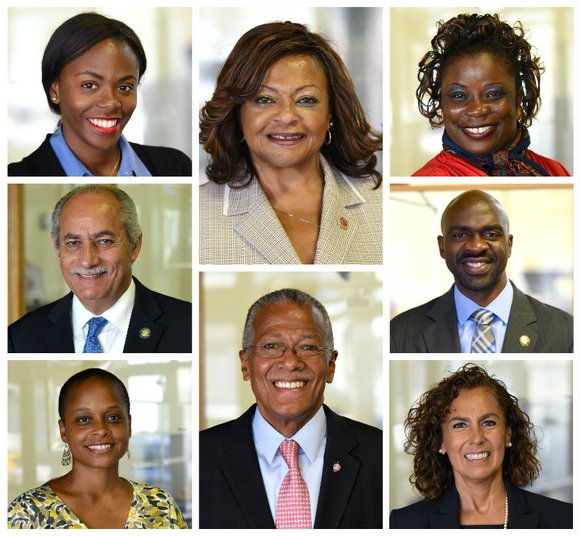 EDITOR'S NOTE: As always we announced the endorsement meeting on the front page of the paper for several weeks before the meeting we held Aug. 22. All candidates were invited via the announcement, only those who appeared before us were considered for endorsement for the primaries on Sept. 13.
State Assembly 33rd District (Queens)
One of the most impressive qualities about Nantasha Williams was her admittance that she didn't have all the answers but was willing to listen to learn. Well, obviously, from her brief appearance with us she has done a lot of listening as the former chief of staff for Assemblywoman Diana Richardson and as executive director of the New York State Black, Puerto Rican, Hispanic and Asian Legislative Caucus. Her promise to strengthen social services for seniors certainly struck a chord with several members of our board, and it's sure to resonate well among her constituents in Queens. Homeowners and folks concerned about out the broken criminal justice system will be excited to learn of her plans to protect and to bring about change in these respective areas. We endorsement her because we believe in her promises.
56th District (Brooklyn)
High on the agenda for Tremaine Wright is education, and in a detailed discussion, she pointed out ways to remedy a deplorable situation and renew residents' faith in public education. She has shared her plan of action, including increased funding for K-8, an expanded science lab, and a better distribution of wealth to the community with a number of civil leaders. Her endorsement read like a who's who of elected officials and activists, and we agree as we add our endorsement to her growing list.
70th District (Manhattan)
Public service has been a mantra for Inez E. Dickens for years, and this dedication was manifestly demonstrated during her tenure in the City Council. We have no reason to doubt that she will display the same power and influence in Albany, and that will bring a harvest of benefits to her residents and other parts of the state. Tick of the usual issues, and add an extra dose of passion, and you have the Dickens agenda. Pay and gender equity, and an increase in minimum wage is something all New Yorkers can applaud and we certainly add our hosannas and endorsement to this new venture for the tireless leader.
72nd District (Manhattan)
Guillermo Linares was the only candidate from the district who appeared at the endorsement meeting and we were well aware of his leadership experience and accomplishments. In fact, much of what we learned about him during his bid to be the replacement for Rep. Charles Rangel was recounted in the recent session, and we are no less impressed. Again, he stressed the importance of unifying the community, improving affordable housing, and creating ways to ensure the flow of federal dollars into his district. For these reasons alone, he has earned our endorsement.
79th District (Bronx)
In the fall, Michael Blake, the incumbent in the district, will be off for a brief spell at the Harvard Institute of Politics. That experience should be mutually beneficial but the institute should take full advantage of Michael's legislative skills and achievements. His session with us was a learning experience and he amazed us with this grasp of the legislative process and how he has capitalized on it for residents in his district. His expertise was demonstrated in housing, criminal justice reform, And the bounty from his experience in Albany should be greatly increased if he is re-elected, a quest we wholeheartedly endorse.
Female State Committee 57th Assembly District (Brooklyn)
We are glad to learn that our endorsement of Olanike Alabi was not wasted. She has fulfilled many of the promises she made to us two years ago, and along the way has gained support from a number of notable elected officials, including Brooklyn Borough President Eric Adams and Public Advocate Letitia James. Her record in this position is remarkable and it is sure to be improved if she is re-elected. As we did before, we again salute Olanike in this mission and renew our previous endorsement.
Inez Dickens and Michael Blake are running unopposed in the New York City primary. Therefore, you will not see them on the Sept. 13 ballot. That being said, we will still take this opportunity to endorse then now for the Nov. 8 general election.
State Senate 31st District (Manhattan)
All you have to say in a political discussion about New York is 150 miles and the name Robert Jackson follows. That's the distance he walked from Manhattan to Albany to win a court judgment that brought home $16 billion for NYC public school children. Jackson is still walking the talk and talking the walk for children, the promotion of health and safety, increasing job opportunities and protecting affordability in housing. With every step he takes his respect and integrity grows as he seeks this senatorial post, and we fully endorsement this move, knowing it will benefit not only his constituents but the entire state.
Kings County Civil Court Judge (Brooklyn)
One can't help but be moved when Consuelo M. Melendez recounts her personal story. She was born in Cuba just about the time of the Bay of Pigs and the nuclear showdown between the U.S. and the Soviet Union. How she and her family overcame the obstacles to success in America are some of the experience she hopes to instill in her courtroom, if elected. "I have faced all kinds of challenges," she said, "so I know how to be fair without prejudice in my courtroom." Fairness was a word that she repeated more than once and if that is the foundation of her bench, then we do not hesitate in our endorsement of her pursuit.