Marisol Alcantara gets Senate endorsement from TWU and Fernando Ferrer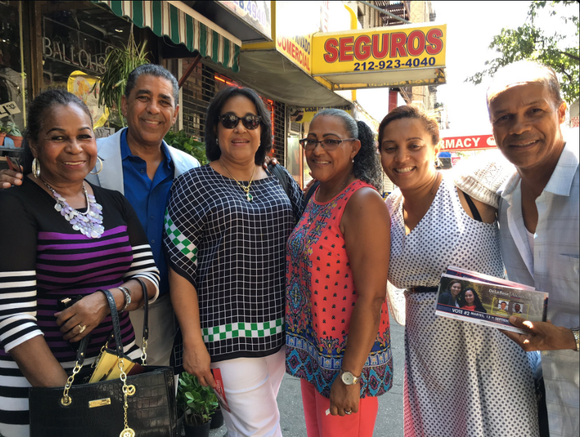 Union endorsements continue to make their presence felt leading up to the primary and general elections.
Last week, Transport Workers Union Local 100 endorsed Marisol Alcantara for the seat in the New York State Senate's 31st District. Alcantara, a former labor organizer for the New York State Nurses Association, was praised for her voting record on issues that affect labor.
"As a longtime labor organizer, she understands the historical importance of the labor movement in creating and sustaining middle-class jobs," said TWU Local 100 President Jon Samuelsen, in a statement. "As a strong, independent Latina, I am confident that she will bring a much-needed new perspective to Albany and represent her constituents with integrity, passion and commitment."
Alcantara happily accepted the endorsement.
"I'm honored to receive the endorsement of Transport Workers Union Local 100," stated Alcantara. "Public transit is essential to the economic health of our city and I applaud the important role the workers of TWU Local 100 play in its maintenance and operation."
Alcantara received endorsements from fellow politicians as well.
The same week she received the TWU Local 100 endorsement, she also received an endorsement from former Bronx Borough President Fernando Ferrer. This endorsement adds to those she previously received from other Latino politicians, such as New York City Council Member Ydanis Rodriguez and Democratic congressional candidate Adriano Espaillat.
"Having spent a number of years in public service, I know what it takes to make a great elected official," said Ferrer in a statement. "Marisol embodies the integrity and character which public servants must have. Breaking barriers is something we can all be proud of, and Marisol is the candidate who will not only make history, but make us proud." 
He continued, "Marisol didn't get here in a parachute. She paid her dues at the community level—as a labor activist and organizer and as a political activist and organizer."
"Fernando Ferrer means so much to the people of the City of New York," stated Alcantara. "Public service is an honor and privilege that I take seriously. I am honored to have earned Freddy's endorsement, and will work hard every day to make the people of this District proud. Freddy will be a resource for me on so many issues and I am thankful for his trust and friendship."
Alcantara is running against former New York City Council Member Robert Jackson, Attorney General Eric Schneiderman's former Chief of Staff Micah Lasher and activist Luis Tejada.