Track star who snared silver medal fears death at home
Contributed | 8/25/2016, 9:09 a.m.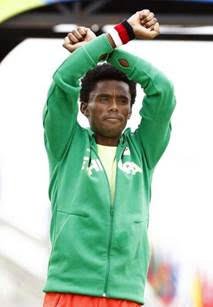 Aug. 22, 2016 —Using every fiber of his being, track star Feyisa Lilesa of Ethiopia made a dash across the finish line at the just-ended Olympic Games in Rio, but it wasn't to be the end of his run.
Lilesa used his high profile silver medal victory to make a sign of solidarity with the Oromo people, who are locked in a decades-long struggle with the government of Ethiopia. In a photograph seen worldwide, 26-year-old Lilesa stands with his arms crossed over his head, a gesture of defiance used by Oromos in recent months.
The gesture recalled an earlier protest by Olympic athletes John Carlos and Tommie Smith, who gave the Black Power salute on the medal podium after winning gold and bronze in the 200-meter sprint in the 1968 games.
Political statements are banned during the games, but Lilesa showed no fear of being sanctioned.
"This was my feeling," Lilesa said in an interview with USA Today. "I have a big problem in my country. It is very dangerous to protest. The Ethiopian government is killing the Oromo people and taking their land and resources, so the Oromo people are protesting and I support the protest as I am Oromo."
The Oromos, the largest of Ethiopia's 80 ethnic groups, making up at least a third of Ethiopia's 100 million population, were once a sovereign people but lost ownership of their land and became both impoverished and aliens in their own country. In 1975, all rural land was declared state-owned, leaving the Oromos in a "colonized" status.
Last November, after the confiscation of a children's playground and the selling of an Oromo forest, a wave of mass protests began. Other issues—the expansion of the municipal boundary of the capital, Addis Ababa, into Oromia; land grabbing and the eviction of farmers; and the brutal repression of protestors—fed the fire, according to Human Rights Watch and other independent monitors.
"If I go back to Ethiopia, maybe they will kill me or put me in prison," Lilesa said.
A government spokesman denied any threat to Lilesa or his family. Yet state-owned TV station EBC Channel 3 blacked out the clips of Lilesa, focusing instead on the Kenyan winner, Eliud Kipchoge.
Meanwhile, a crowd-funding page was set up, saying the runner had become an "international symbol" for the Oromo protests. Initial pledges of $10,000 doubled within an hour.
A legal team hired by U.S.-based Ethiopians is helping Lilesa, who has a wife and two children in Ethiopia, with a request to seek asylum in the US.
GABONESE SET TO VOTE AS GROUNDBREAKING BEGINS FOR A US SCHOOL
Aug. 22, 2016 (GIN)—Citizens of Gabon will go to the polls this week to choose between the long-running dynasty of Bongo Ondimba or a member of the opposition, comprising 14 candidates, each jostling to take part in this Saturdays' polls.
But what looked like an easy win for the incumbent president, Ali Bongo Ondimba, hit speed bumps over the past week when two of the favored opposition candidates pulled out of the race in favor of Jean Ping, a strong candidate with credentials. A third candidate, a first cousin of the president, also withdrew this week.