Youth of Avenue Music Group spread the love with community giveback
OLAYEMI ODESANYA | 12/1/2016, 10:49 a.m.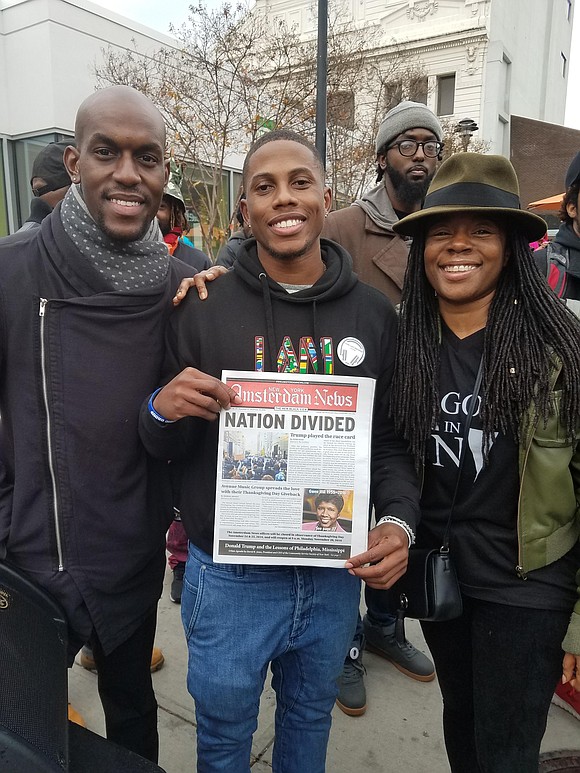 This past Thanksgiving Day, while some people had turkey with all the trimmings and others went hungry, young entrepreneur Joshua Walker and his Avenue Music Group's Spread the Love Giveback fed, clothed and entertained those in need in the Bed-Stuy community. Hundreds of people passed by the plaza on Marcy Avenue and Harriet Ross Tubman Avenue (aka Fulton Street). Hot, canned and packaged food, clothes for entire families and toys were distributed. Many young people, including the Binghamton University Kappas, donated their time and energy. There were cyphers, spoken word and song from artists such as IamChelseaIam, ARStylez and Siphus Steele—and of course a mannequin challenge.
Across the street at Restoration Plaza, Master Sabu of the Humble School of Martial Arts continued his annual serving of hot food to eat and takeaway, along with movies and music. The homeless and people who just needed a little extra help on Thanksgiving Day were able to enjoy the selfless gifts from their fellow New Yorkers. A number of stores contributed food and goods, and the contribution was very much appreciated by the community. This generosity is spreading love the Brooklyn way.