Judge declares mistrial in Michael Slager trial
Darran Simon, Keith O'Shea and Emanuella Grinberg, CNN | 12/6/2016, 11:28 a.m.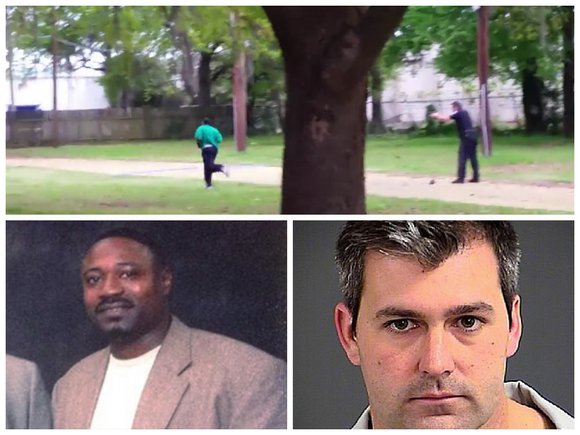 HARLESTON, South Carolina (CNN) -- A prosecutor vowed Monday to retry a white former police officer charged with killing an unarmed black motorist in North Charleston, South Carolina, after the jury failed to reach a verdict following 22 hours of deliberation.
The judge declared a mistrial on the fourth day of deliberations in the murder trial of Michael Slager, the former North Charleston officer.
"We will try Michael Slager again," 9th Judicial Circuit Solicitor Scarlett A. Wilson said in a statement expressing disappointment that Slager was not convicted in the five-week murder case in state court.
Slager shot and killed Walter Scott, 50, after an April 4, 2015, traffic stop. The shooting was captured on a bystander's cell phone video, which showed Scott running away as Slager fired eight times, striking Scott three times in the back.
The jurors -- 11 whites and one African-American -- struggled to reach a consensus. They returned to deliberate three times Friday after indicating they were deadlocked. One juror, in a note, said he couldn't vote for a conviction and wouldn't change his mind. Monday brought a slew of questions, such as requests for clarifications on terminology related to the law, before the mistrial was declared.
Family 'not sad'
"Every human being, no matter what color you are, can see (what happened on the video), unless you already made up your mind," Scott family attorney L. Chris Stewart said.
Stewart told CNN that, despite reports of jurors' questions and requests, his team's research indicates the breakdown was 11 jurors to one, and the lone holdout ignored the evidence and testimony in the case. Still, he said, he's emboldened because, before the trial, observers expressed doubt the proceedings would be fair, given the jury makeup. But "all the other white jurors were with us," Stewart said.
"We are not worried," he said of a retrial. "That was just Round 1. He's getting retried immediately, and the (U.S. Department of Justice) is coming after him."
The ruling disappointed Scott's family, attorneys and supporters. They said they were relying on their religious faith and believe Slager ultimately will be convicted.
"Injustice will not prevail," Judy Scott, Walter Scott's mother, said after the mistrial was declared. "He will get his just reward."
Slager is scheduled to go on trial early next year on federal charges, including civil rights offenses, related to the shooting. Wilson, in her statement, said she hoped the federal and state courts will coordinate efforts regarding future trial dates.
Judy Scott said Monday she was "not sad."
"And I want you to know why I'm not sad, because Jesus is on the inside," she said. "And I know that justice will be served because the God that I serve, he's able. He told me to wait on the Lord and be of good courage, and God, he is strengthening my heart."
Earlier, jurors passed a note to the judge that said, "Despite the best efforts of our members we are unable to come to a unanimous decision."