All roads lead to Philadelphia for Mumia December 9
Saeed Shabazz | 12/8/2016, 9:53 a.m.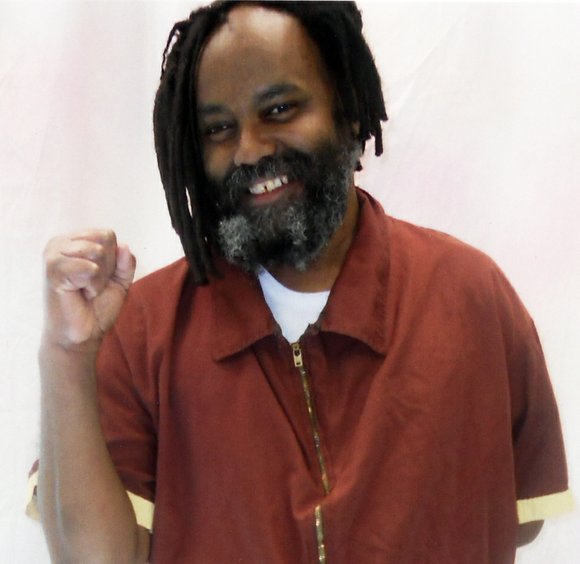 Supporters of Mumia Abu-Jamal, imprisoned since 1981 for the death of a white policeman, plan to gather in Philadelphia to march and rally for his freedom. He has spent 35 years in prison. Abu-Jamal was tried, convicted and sentenced to death for allegedly murdering police officer Daniel Faulkner in 1982. He spent three decades in isolation on Death Row. The Philadelphia district attorney announced he was giving up on Abu-Jamal's death sentence.
Abu-Jamal, a celebrated writer and radio journalist and author of six books and hundreds of columns and articles, remains in a Pennsylvania prison serving life without parole. His supporters argue that his health is failing because of hepatitis C and polluted water within SCI Mahanoy and Frackville prison.
"Friday's rally is about Mumia's life and death," argued Dr. Suzanne Ross, a New York member of the International Concerned Family and Friends of Mumia Abu-Jamal. "We are alarmed. It has been more than a year since his health has been in decline because of the hepatitis C." She said the second major health issue was the black oily water that prisoners had to drink.
Ross said that Abu-Jamal complained constantly of the itching of his skin, allegedly because of the reaction to the medication the prison provides for his condition. "There is a legal suit concerning Mumia getting the right treatment since December 2015," Ross said.
Activists note that there are estimated to be 7,000 people with hepatitis C in the Pennsylvania prison system.
Joe Piette, of the International Action Center-Philadelphia Chapter explained to the AmNews that there is a sense of urgency with the new administration threatening to bring heavier charges against activists. "Over the years government has been pushing back of the 1950s and 1960s, now they have a green light to turn back the clock," Piette said.
"We have a critical situation with Mumia's health, the disease is curable, but he is being denied the medications," stated Baba Zayid, a Newark New Jersey spokesman for several activists organizations. Speaking of the Dec. 9 rally, he added. "This is going to be quite an affair."
The Dec. 9 rally is more important than the rally to get Abu-Jamal off death row, according to Pam Africa. "With this hepatitis C it is clear that they are trying to kill Mumia," she told the AmNews, noting the he has had diarrhea for more than two months, Africa added, "They are also saying that the pills he is getting could also cause suicidal tendencies. Friday is very important!"
People will first gather at the statue of controversial mayor and former police chief, Frank Rizzo, in Thomas Paine Plaza near 15th Street and JFK Plaza at 3 p.m. The march to Gov. Tom Wolf's office starts at 3:45 p.m., with a stop in front of the district attorney's office. The inside rally will be at Arch Street United Methodist Church, beginning at 6 p.m.
Call Baba Zayid for bus information @ 973-202-0745.