GAMBIA'S ONCE 'PRESIDENT FOR LIFE' QUIETLY CONCEDES DEFEAT
Contributed | 12/8/2016, 8:44 a.m.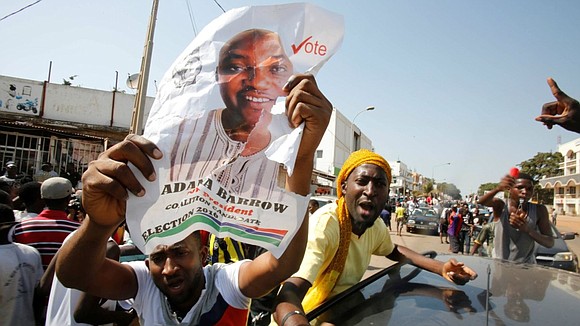 Visas and passports from 10 different countries were found during raids on the nondescript stucco building with the corrugated tin roof, the State Department said.
After receiving a tip last summer, authorities shut down the operation as part of a joint investigation with diplomatic security agents, local authorities and other international partners called Operation Spartan Vanguard.
It was a business run by both Ghanaian and Turkish organized crime rings and a Ghanaian attorney practicing immigration and criminal law. The "consular officers" were Turkish citizens who spoke English and Dutch and were able to pay off corrupt local officials to look the other way as well as obtain legitimate blank documents to be doctored.
The State Department did not say how the gang obtained the authentic visas or how many people were believed to have illegally entered the U.S. and other countries using visas issued by the crime ring.
The criminals advertised on billboards in Ghana, Togo and Ivory Coast and brought clients from across West Africa to Accra where they rented them rooms in nearby hotels.
There was no immediate comment from Ghana's Criminal Investigations Division.
Now, in the waning hours before votes are cast, Ghanaians will have to decide among seven political parties, all of whom have anti-corruption planks in their campaigns. Yet this decade-long scam in full view of city and government officials seems to raise doubts about their effectiveness.
Seven out of 10 Ghanaians believe the country is headed in the wrong direction.
"Ghana would have been the mainstream of developed nations by now, but we missed the way," remarked former president John Kufuor of the New Patriotic Party. Incumbent President John Mahama instructed, "You don't change your best player," at the windup of his campaign.
Vote wisely with the love of the country at heart," ex-President Kufuor advised.