Housing for the Ages--The quest to build Coretta Scott-King Senior Apartments
Gregg Morris | 12/8/2016, 4 p.m.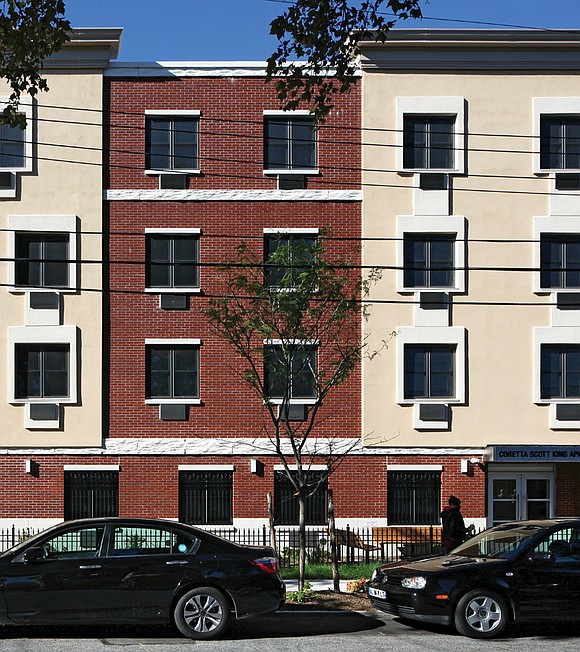 In her short adulation at the official opening of Coretta Scott-King Senior Apartments in East New York, Brooklyn, the Commissioner of the New York City Department of the Aging praised the nonprofit Community Partners Commission Association, Inc. and the Ridgewood Bushwick Senior Citizens Council, one of the city's largest multi-service nonprofits. In the same breath the commissioner also acknowledged the grim realities of decent housing for seniors in one of the most underserved neighborhoods in the city, a Brooklyn community often described and referred to as the most dangerous in New York City.
"Thank God, thank God, thank God and thank God," Commissioner Donna M. Corrado told approximately 150 people in front of the entrance of the 51-unit building at 660 Jerome Avenue where a temporary dais was set up and several in the audience sat in chairs. "It can take divine intervention to get an apartment. There are thousands of seniors wishing that they could be here and have one of these apartments. Every day we get thousands of calls from seniors."
More than 5000 requests were received for the 51 units in Coretta Scott-King apartments. Only applications from those with fixed incomes were to be considered and the selections for the 51 units had to be made by lottery and it was open to all races and ethnicities. East New York, according to city statistics, is
52 percent Black, 37 percent Hispanic, 3 percent White, 2 percent Other. Life expectancy in that community is 77.7. A few miles away in Borough Park the life expectancy is 83.5.
The pageantry on that bright and warm October day of last year was impressive. Numerous speakers lavished praise on the president of Community Partners Commission Association, Dedra Wade. The speakers ranged from esteemed local and nationally known members of the clergy to representatives of senior officials of city and federal agencies like HUD as well as the Brooklyn Borough Presidents Office and members of the New York City Council.
Speaker after speaker eulogized Wade as the "the visionary" and driving force behind the $13 million housing project constructed on what was once a large, city-owned dumping ground. "Dedra Grant Wade, you are New York's Coretta Scott-King," said an Atlanta, Georgia, clergy member who worked with the King family.
"You are the embodiment of driven determination," Eric Enderlin, Deputy Commissioner, New York City Department of Housing Preservation and Development, said about Wade who stood nearby the improvised podium for speakers. Appearing on behalf of Commissioner Vicki Been, he concluded his laudatory comments about Wade's persistence, drive and passion by recalling the words of Coretta Scott-King, "Struggle is a never ending process, freedom is never really won. You earn it and you win it, in every generation."
Cars, refrigerators, air conditioners and detritus of all make and manner were regularly dumped in that eyesore, according residents interviewed for this article. Illegal dumping, especially at night, spurred rumors that toxic wastes were leaking into the ground. Subsequent environmental tests, however, showed that the land contained no toxic wastes. The plan of Wade's Community Partners Commission Association was to build something akin to a "naturally occurring residential retirement community." Such communities are also known as NORCS, which "maximize and support the successful aging in place of older residents," according to the New York Department of Aging.