Housing for the Ages--The quest to build Coretta Scott-King Senior Apartments
Gregg Morris | 12/8/2016, 4 p.m.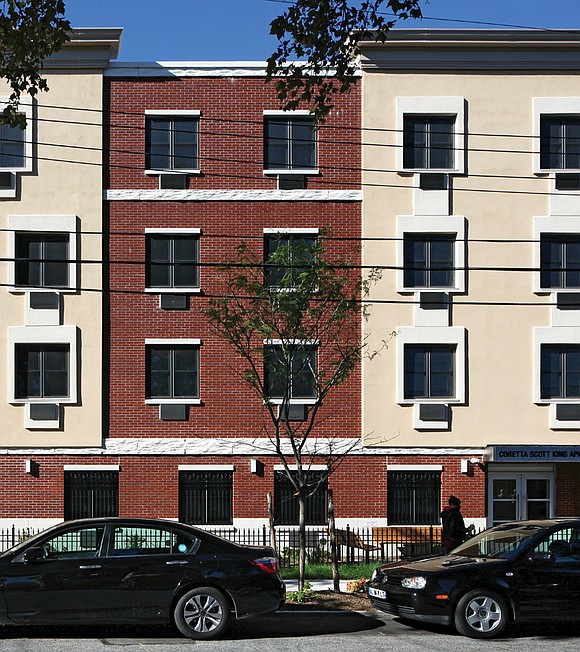 Under normal circumstances, a housing construction project of this size can take three years. Coretta Scott-King took 10."What you are seeing right now behind me is a miracle," said Wade's business partner, Dennis Taylor, who spoke briefly and succinctly at the podium. "There was a lot of distractions, there was a lot of controversy, there was a lot of decisiveness, there was a lot of everything that had to be taken on to make this a reality." He was referring to the realpolitik of political and commercial interests whose agendas had to be addressed. That reality plus unexpected financial problems that seemed to pop up at the most unpropitious times added the extra seven years to the project.
East New York's business and political realpolitik has been described as small-townish and that the community is divided by what one veteran businessman called the community Mason Dixon Line, Pitkin Avenue, which runs west to east from East New York Avenue to Cross Bay Boulevard. "There are certain agencies that can do business (north of Pitkin) on that side but they are not welcome on this side," where Coretta Scott-King was built, the veteran said.
"I'm a born New York city resident citizen, " Wade said in an interview, but she needed a "green card" to do business in East New York. "If you don't come on the arm of somebody they know and like, you don't get in. You can't even sit down to a meeting table." What follows is a summary of how Wade's Community Partners Commission Association dealt with that reality. The deputy commissioner of the New York City Department of Housing Preservation and Development comment about Wade's "driven determination" was not an exaggeration.
Wade is a former chief in the New York City Department of Probation and for 24 years served under four mayors and six commissioners. She was the department's first community affairs chief. Before she retired eight years ago because of injuries in a car accident, she played an important role in the city's law enforcement effort to confront the bedlam in East New York caused primarily by gangs and especially in public housing. One of her contributions was creating public service programs for that community.
Educating and employing probationers benefits a community, she said about one program she started. But East New Yorkers had to be convinced. "Every meeting I went to," she said, "people kept saying, 'We don't want these people in our community.' I kept saying, 'They live here already. You all don't know that?'" She opened their eyes about the realities of their neighborhood by painting them a picture. "I started making maps and showing them not with names but with black dots where everybody (probationers) was. Some of the areas were literally black with the dots of people (those on probation) who lived on the blocks."
"So, all were trying to do," she recalled saying at meetings, "is make them better so they don't revert to crime or end up going to escalated crime and going to jail, going to prison." Other programs included recruiting community service work crews to help clean up streets and lots and to remove graffiti. Her public service programs played "a lead role when they (law enforcement) arrested some of the major gang members," she said. Her frequent visits to East New York were fraught with risks but that's how she eventually met Dennis Taylor. "I was readily armed every day," she recalled. "I didn't know what Mr. Taylor's capacity was but he was out here every day, and I was pretty much scared for him some of the times."