Housing for the Ages--The quest to build Coretta Scott-King Senior Apartments
Gregg Morris | 12/8/2016, 4 p.m.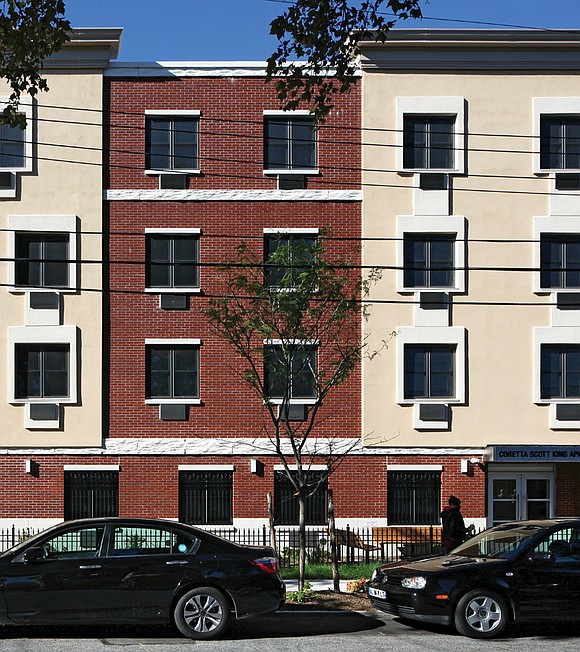 "Well at the time," Taylor recalled in an interview, "I was working for a local nonprofit community housing developer. She (Wade) had come over with this program called CERT that was working out of the Cyprus Hills houses (on Euclid Avenue) and she came in one day and I will never forget it, and she was selling me this story (about her public service strategy). I said, well, how can you do that when you're part of probation. Probation's mandate is to lock folks up?"
CERT is the acronym for Certificate of Relief from Disability and a judge can restore some of the rights that a person loses if convicted of a crime. Anyone with a minor criminal record who has not been convicted of two or more minor felonies is eligible. Wade was passionate about CERT in East New York, especially because of youth, such as high school graduates and college students, who were trying to put their lives in order. Their records of convictions for minor crimes as teens, however, created serious problems for them, such as applying for jobs. Wade explained her strategy, Taylor said, and "we've been working together ever since." Several years later that alliance helped significantly with Wade's "green card" after Taylor became her business partner.
Brooklyn Community Board 5, which encompasses East New York, Cypress Hills, Highland Park, New Lots, City Line, Spring Creek, and Starrett City, "was in favor for us from the beginning," Wade said in the interview several days before the official opening as she gave a short summary of the vexing challenges she faced establishing trust and garnering support. Another well of early support came from senior citizens either living in the neighborhood and those who had felt compelled to move out but wanted to return.
"One of the coldest nights I think I can remember in history," recalled Wade about a meeting in March of 2006. "So many seniors turned out that I couldn't believe that these seniors battled that frost-bite-cold to come out to this meeting and the room was full to capacity." It was held at a local neighborhood Democratic club just a few blocks from the dump site.
"We told them that we were seeking site control of this piece of property, and we needed their support," she said. The fixed incomes of retirement pensions and social security benefits of those seniors at the meeting were not sufficient for them to have decent housing in East New York. Wade's plans could change that. Also, the seniors insisted, Wade recalled, that the building be named after Coretta Scott-King who had passed that year in late January.
Mabel Jones, 76, a retired YWCA daycare teacher, recalled the meeting and the reason she showed up for it. Jones, who lived in Bedford-Stuyvesant before moving to Jerome Avenue, lived about a half block from the dumpsite, and was fed up with "seeing all the garbage and dumping, and I would call the precinct" to complain but no officer ever showed up. But that didn't stop her from calling. "I just couldn't stand to see what I was looking at. They came in late at night. They would sneak in and just unload. Sometimes they broke down the fence. It bother me so bad," she said.